Bosh, Webber, Wallace, Pierce inducted into Basketball HOF Class of 2021
The Naismith Memorial Basketball Hall of Fame Class of 2021 – 16 members in total – was inducted at the enshrinement ceremony on Saturday.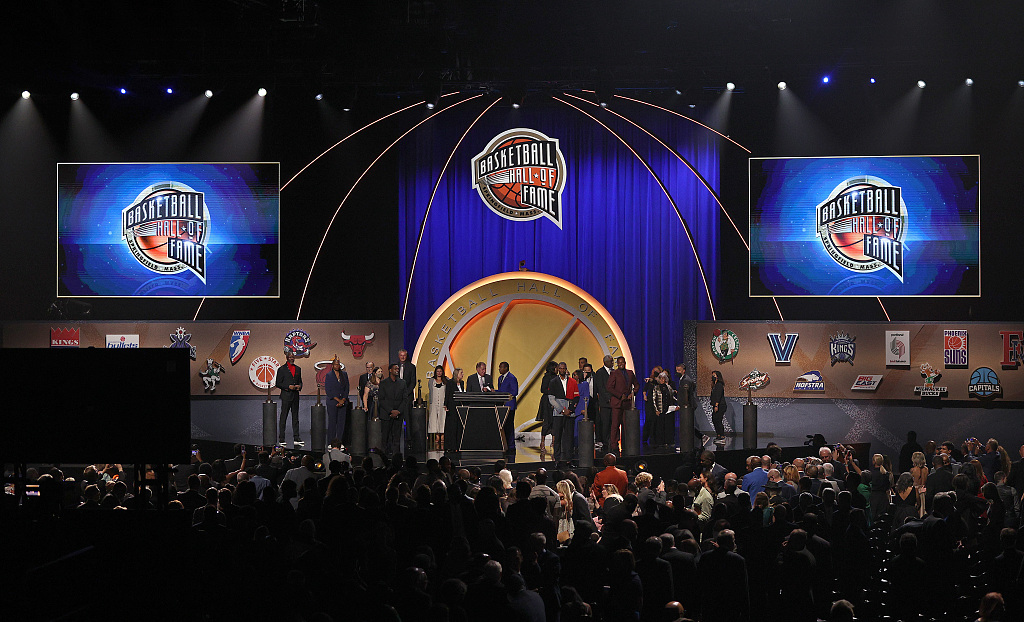 The full list is as follows:
Players – Chris Bosh, Yolanda Griffith, Lauren Jackson, Paul Pierce, Ben Wallace, Chris Webber, Bob Dandridge, Pearl Moore, Toni Kukoc and Clarence Jenkins
Coaches – Rick Adelman, Bill Russell and Jay Wright
Contributors – Val Ackerman, Cotton Fitzsimmons and Howard Garfinkel
Russell, 87, was inducted into the HOF for the second time as coach after receiving the honor as a player, making him the first person to enter the HOF with such a distinction.
Russell became the African American head coach in NBA history and led the Boston Celtics to win the NBA Championship in 1968 as a player-coach and then won it again in 1969.
"This honor would never be possible without my great friend, Red Auerbach. Red was a visionary. When he first asked me if I wanted to coach the Boston Celtics, I wondered, 'Could I coach Bill Russell?' Coaching the Celtics was one of the most challenging and rewarding experiences I had through my 13 years in the NBA. I had (chosen) Hall of Fame presenters who each hold a special place in my life and who I take great pride in playing a role in their lives. We are missing two important presenters: David Stern and Kobe Bryant, whose friendships meant a lot to me. And to my wife, Jeannine, thank you for putting up with me and for your love and support. Thank you," said Russell in a recorded statement. He walked onto the stage with the help of Julius Erving in front of his presenters: Charles Barkley, Spencer Haywood, Alonzo Mourning, Bill Walton and Rick Welts.
"Hey, Chris Weber, we're going into the Hall of Fame with Bill Russell, bro. That's crazy," said Bosh.
Bosh and Webber were 11-time and five-time All-Star power forwards respectively when they were playing. Webber was also a five-time All-NBA Team selection (First Team once, Second Team three times and Third Team once) but Bosh had two rings, which he won with the Miami Heat as one of the Big 3 with LeBron James and Dwyane Wade.
Both James and Wade attended the ceremony.
Back in 2010 summer, when Pat Riley was trying to recruit Bosh for the Heat, he presented all of the seven rings he had won (before 2010) and gave one of them to Bosh "on loan." Riley said he could return it after they won a title together. After that, Bosh won two rings in Miami and he was finally able to give it back to Riley.
One unfortunate part of Bosh's career was that he had to retire at 31 because of blood clots. "After finally making it to the mountaintop with so much more to do, in my mind, so much more work to do, it all stopped. I eventually came to realize that we all have it in our power to make the most out of every day despite what happens, to turn setbacks into strengths," Bosh said in his speech.
Bosh also paid respect to Kobe Bryant, recalling his time in Las Vegas with Team USA ahead of the Summer Olympics in Beijing. Bosh wanted to "establish himself as a young leader of the team" by "waking up bright and early."
"So I set my alarm, I make sure I'm up by sunrise, I get out of my bed, I put on my gear and I head down stairs. But when I get there, Kone is already there, with ice bags on his knees, drenched in sweat. It took me a minute to figure it out but this guy wasn't only awake before me. He had already worked out. He had just played in the Finals days earlier. Meanwhile, I have been off for months but I was still exhausted. What he had done that morning was incomprehensible to me. That dedication he had only days after falling short of an NBA Championship. That taught me something I've never forgotten. Legends aren't defined by their successes, they're defined by how they bounce back from their failures," said Bosh.
"Basketball was not my life. Basketball was just in my life. I took basketball and I created a path for those who helped me. I took. I received. I gave back. I laid a path. I laid a track. It should be easy to find; I was stuck in it for quite some time," said Ben Wallace, who won an NBA Championship with the Detroit Pistons in 2004. Four members of that team, Chauncy Billups, Richard Hamilton, Tayshaun Prince and Rasheed Wallace were all there for Wallace.
"No was not an option. I kept marching. I kept fighting, I kept winning, I kept succeeding. Be strong, be motivated, stand tall." These words mean a lot coming from an undersized, undrafted big man who was named the NBA Defensive Player of the Year (DPOY) four times.
Pierce was drafted by the Celtics with the 10th overall pick in 1998, and he still gets choked up about that to this day. "I appreciate that. Thank you for passing on me. It added fuel to my fire. To this day I don't understand how I slipped to No. 10. But you know everything happened for a reason. Going to the Celtics, I'm grateful," said Pierce.
He also recalled the days working with Coach Doc Rivers, who led him to the only title of his career in 2008. "We didn't start off on the best foot. I know you wanted to trade me. I was accustomed to doing things my way, I didn't like someone coming and telling me what to do. When I started listening to you, that's when I became great," added Pierce.
Others gave food for thought in their speeches too.
"I would like to thank Michael Jordan and Scottie Pippen for kicking my butt during the Olympics in Barcelona and motivating me to work even harder to become an important part of the Chicago Bulls," said Kukoc, who won three straight rings with the Chicago Bulls between 1996 and 1998.
"I was unknown. I came out of nowhere. I never gave up on my dreams and here I am at the pinnacle, the Naismith Memorial Basketball Hall of Fame," said Griffith, who was the former WNBA MVP, DPOY and Finals MVP.
"My greatest accomplishment is my family," said Adelman, who achieved 1,042 wins as a coach.
"I'm thankful for the game of basketball. Basketball made it possible for me to travel the country and overseas, to earn a college degree. From shooting on a makeshift hoop in the yard in South Carolina to playing in the world's most famous arena, Madison Square Garden," said Moore, the all-time leading scorer in women's college basketball.
"My dad is the best coach I ever played for. He coached me in football and baseball, never basketball. He once told me basketball is not a tough guy sport. After I told him basketball was my favorite sport, he fell in love with the game and did everything he could to help me succeed," said Wright, who won two NCAA Championships as a coach.
"Ninety percent of the guys that I guarded are in the Hall of Fame ... there was no such thing as time management," said two-time NBA champion Dandridge.
"This is an absolute dream come true. It's one of the greatest honors of my entire life, it's something I'm going to cherish for the rest of my life. It's so special to be enshrined as the first of many Australian basketball players," said Jackson in a recorded statement.
"I'm inspired to this day by the example set by Billie Jean King, and the many strong women and men who followed her in the quest to make the chance to play sports, and to do it on a big stage, a reality for girls and women in our country and our world," said Ackerman, the inaugural president of the WNBA and the first female president of USA Basketball.