Over 1.3 mln affected by flooding in eastern Africa: UN
NAIROBI, May 12 (Xinhua) -- At least 1.3 million people in eastern Africa have been affected by flooding caused by heavy rains since March, the UN humanitarian agency said on Tuesday.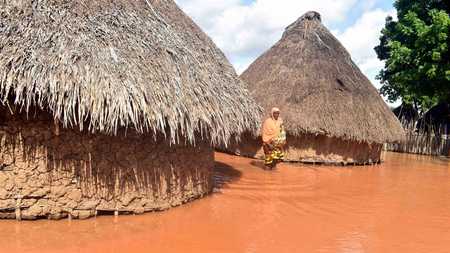 File photo by AP
The UN Office for the Coordination of Humanitarian Affairs (OCHA) said the figure includes at least 481,000 displaced in countries including Burundi, Djibouti, Ethiopia and Kenya.
"With water levels rising in multiple locations across the region, rivers have burst their banks and lakes have overflowed," OCHA said in its latest Update on flooding.
Heavy rainfall has intensified across large swathes of Eastern Africa in recent weeks, causing deaths, displacement, flooding, landslides and damage to homes, infrastructure and livelihoods.
Many weather stations have recorded their highest amount of rainfall in about 40 years, according to regional bloc, the Inter-Governmental Authority on Development (IGAD).
In Uganda, Lake Victoria's water levels are the highest recorded since 1964, according to authorities, causing displacement of communities close to the shoreline and creating challenges for the country's hydropower infrastructure.
In Burundi, it said, the Rusizi River burst its banks for the second time in two weeks on April 30, affecting tens of thousands of people.
"In Somalia, torrential rains and riverine floods have inundated at least 27 districts, with Belet Weyne in Hiran region worst-hit," OCHA said.
In western Kenya, at least seven rivers had caused displacement, while in Rwanda, intensified storms since May 1 have killed at least 70 people and severely impacted seven districts.
According to OCHA, a landslide in Tanzania washed away 50 houses in Arusha on April 20.
The recent heavy rains come on the back of an above-average "short rains" season in the region.
"Beyond their immediate impact on families and communities, the heavy rains in the region have provided conditions conducive to the further breeding of desert locusts," said the UN agency.
It noted that although control operations have reduced locust populations, another generation of breeding is underway, with new hopper bands and swarms expected to form in Kenya, Ethiopia and Somalia during May and June.