Peru president calls for 'political truce' amid protests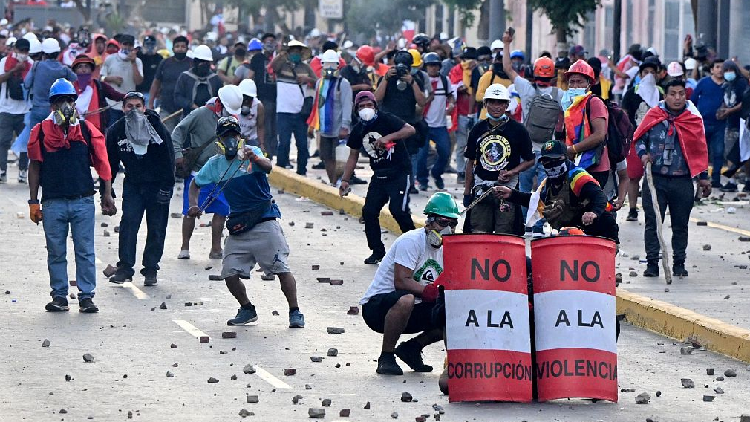 Peru's President Dina Boluarte called for a "political truce" on Tuesday as hundreds of protesters again took to the streets of the capital, Lima, and clashes erupted between some people in the crowds and the police, witnesses said.
Television footage showed some people and police officers were injured although not seriously. And after several hours of unrest in the city center, calm was eventually restored.
The protests began in December when the then president, Pedro Castillo, was ousted. More than 50 people have been killed as a result of the unrest.
Economy Minister Alex Contreras said that while weeks of protests have affected some sectors, particularly tourism, the economy could grow "close to" 4 percent this year, boosted by a $1.55 billion recovery plan, while the sol remains the most stable currency in the region.
Nonetheless, protests have caused 2 billion soles ($516.65 million) in damages to production and 3 billion soles in damage to infrastructure, President Dina Boluarte said on Tuesday in a separate briefing.
Boluarte blamed former president Castillo, who is serving an 18-month term of pretrial detention while he is investigated for "rebellion," for promoting political polarization during his nearly 17 months in power.
She also said that the protests had at times turned violent because of "radical people" linked to drug trafficking, illegal mining and smuggling.
Attempts to manage the economic impact of the unrest include a $1.55 billion plan, announced late last year, and targeted at the regions most affected by the protests.
The plan includes the expansion of welfare provisions such as pensions, soup kitchens and access to natural gas in homes as well as public works, and investment in mining and agriculture.
Contreras said that Peru was looking to promote lithium development and would be creating a lithium working group.
Peru is the world's second-biggest copper producer but has limited lithium production.