EU president-elect picks new European Commission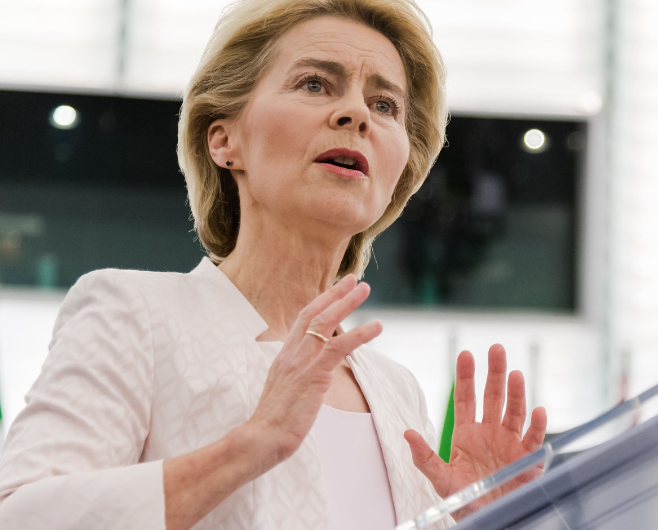 European Commission president-elect Ursula von der Leyen speaks at the European Parliament in Strasbourg, France, July 16, 2019. (Photo: VCG)
EU president-elect Ursula von der Leyen is set to start picking the members of the next European Commission on Monday, a tricky task requiring her to balance individual qualifications and political and national interests.
Here is a quick look at who is in the running and what the process entails.
What is the European Commission?
The commission is the European Union's executive, in charge of proposing legislation, implementing EU policy and managing day-to-day business. In that sense, it is like a country's ministerial cabinet.
The outgoing commission was made up of 28 commissioners, one from each EU member state and each in charge of a different department, from trade and competition to energy and fisheries.
Commissioners serve for five years until new European elections are held. They are based in Brussels and Luxembourg.
Class of 2019-2024
With Britain on the verge of exiting the EU, the incoming class will only have 27 commissioners.
August 26 was the deadline for countries to submit candidates' names. Traditionally these have included former ministers, top national politicians or members of the European parliament.
Belgium has put forward Foreign Minister Didier Reynders, Lithuania has nominated its 28-year-old minister for economy and innovation, Virginijus Sinkevicius, and Sweden has proposed Employment Minister Ylva Johansson. Other notables include former Finnish finance minister Jutta Urpilainen, Hungary's ex-justice minister Laszlo Trocsanyi and outgoing European Commission spokesman Margaritis Schinas of Greece.
A number of incumbents are also hoping to stay on, including Vice-Presidents Valdis Dombrovskis of Latvia and Maros Sefcovic of Slovakia; Enlargement Commissioner Johannes Hahn of Austria; digital chief Mariya Gabriel of Bulgaria; finance chief Pierre Moscovici of France; Czech Vera Jourova, the justice commissioner; and Agriculture Commissioner Phil Hogan of Ireland. If re-appointed, they could be given a different portfolio.
Of the 27 members of the incoming commission, only 25 names still need to be picked: the appointment of former German defense minister von der Leyen as commission president and of Spain's Josep Borrell as new foreign policy chief was decided by EU leaders in July.
Commission Vice-President Frans Timmermans of the Netherlands and Competition Commissioner Margrethe Vestager of Denmark – who were both in the running against von der Leyen for the top job – have meanwhile been promised senior vice-president posts, along with important portfolios.
Balancing act
Von der Leyen has said she wants her commission to be 50-percent female and reportedly asked each country to nominate both a man and a woman for the job. All except Portugal and Romania ignored her wishes and proposed only one name each.
Still, with at least 12 countries putting forward a female candidate, according to a Euractiv, von der Leyen could still get her gender-equal commission.
Political considerations will be equally important, and a majority of candidates belong to the two biggest parties in the European parliament, the conservative EPP and the center-left S&D, while a handful comes from the liberal Renew group (formerly known as ALDE) and the environmental Greens.
The trickier task will be deciding who handles which portfolio, with countries jostling for high-profile jobs like trade, competition and economic and financial affairs. While commissioners represent the EU and not their own country, the post is nevertheless a source of national prestige, indicating a member state's position in the bloc.
As with all EU appointments, keeping eastern and western countries happy and satisfying both founding members of the bloc and EU newcomers will be a tough balancing act.
Speaking in Zagreb last month, von der Leyen admitted as much, noting that her goal will be "to balance the European Union. The east, west, north and south. To bring balance to the small and large members and the younger and older members."
What's next?
Von der Leyen's next step will be to interview each candidate and decide on portfolios.
Confirmation hearings in the European Parliament (EP) will be held starting at the end of September.
The current list is far from final, however, and both von der Leyen and the EP can still reject candidates and request that member states propose new names.
The parliament will then vote on the final list of commissioners, with the new commission due to start work on November 1.