US Supreme Court hangs up on phone arguments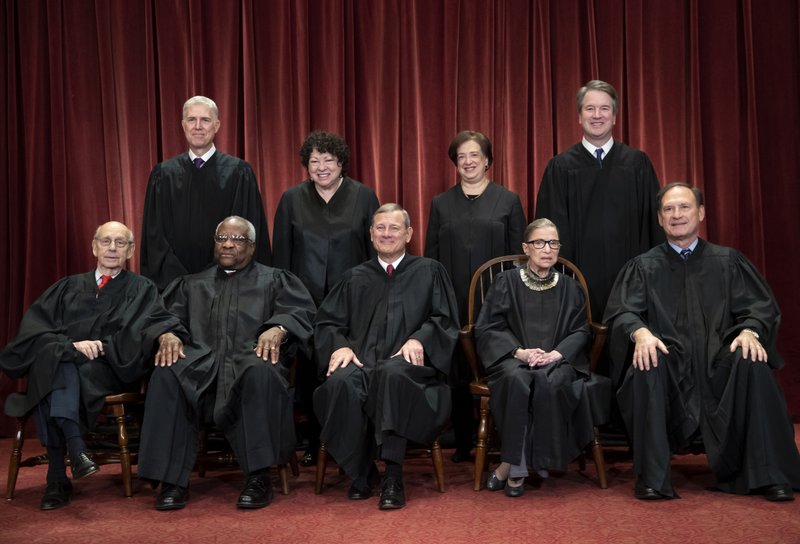 In this Nov. 30, 2018, file photo, the justices of the U.S. Supreme Court gather for a formal group portrait to include a new Associate Justice, top row, far right, at the Supreme Court Building in Washington. Seated from left: Associate Justice Stephen Breyer, Associate Justice Clarence Thomas, Chief Justice of the United States John G. Roberts, Associate Justice Ruth Bader Ginsburg and Associate Justice Samuel Alito Jr. Standing behind from left: Associate Justice Neil Gorsuch, Associate Justice Sonia Sotomayor, Associate Justice Elena Kagan and Associate Justice Brett M. Kavanaugh. (Photo: AP)
The US Supreme Court has held two weeks of arguments by telephone because of the coronavirus pandemic, hearing cases about President Donald Trump's tax records, contraceptive care mandates and religious education disputes, with audio available live to audiences around the world.
The court heard several days of arguments that had been postponed because of the coronavirus. Wednesday was the sixth and final day. Decisions are expected by early summer.
The Supreme Court has hung up the phone. The justices on Wednesday heard their last scheduled cases by phone. The high court heard arguments in 10 cases by telephone over six days as a result of the coronavirus pandemic.
Audio of the arguments was broadcast live, a first for the court. The cases the justices heard had been previously postponed because of the virus. Additional previously scheduled cases have been postponed to the fall.
It's unclear whether the court's experience with live audio will change arguments going forward. Before the pandemic, transcripts of the court's arguments were available on the same day, but audio of arguments was generally provided on the Friday after arguments were held.
The court traditionally finishes its work by late June and then takes a break from hearing arguments until October. The justices have not said whether they will return to the courtroom in October.