Curfew imposed on parts of Australia's Sydney with lockdown extended one more month
SYDNEY, Aug. 20 (Xinhua) -- Australia's most populous state of New South Wales (NSW), the epicenter of the country's current COVID outbreak, announced Friday to extend the lockdown on Greater Sydney until the end of September and to impose a curfew on some areas of concern.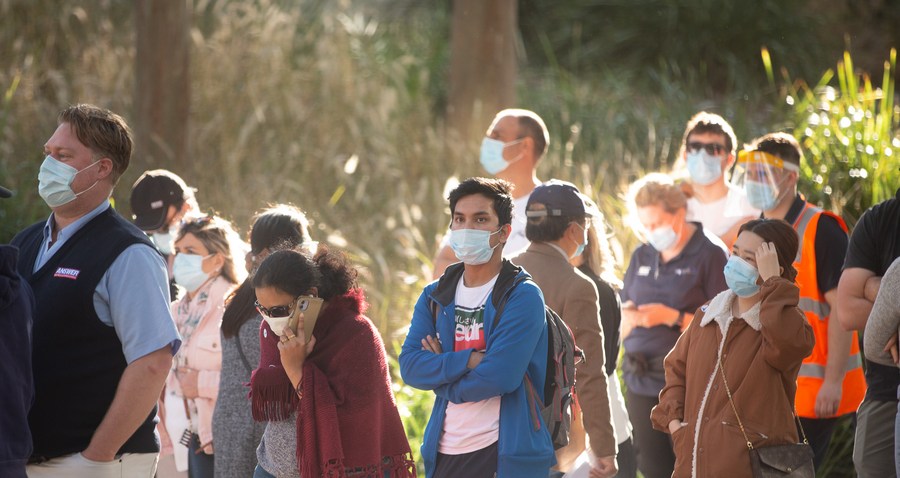 For residents and businesses in the local government areas of concern, the curfew will be introduced from 9:00 p.m. to 5:00 a.m. local time except for authorized workers, emergencies or medical care from Monday, Aug. 23. Outdoor exercise will be limited to one hour per day.

In Greater Sydney, mask-wearing will be mandatory when the residents are outside home, except when exercising, from Monday, Aug. 23.
The current lockdown on Greater Sydney and surrounding areas, which is scheduled to end on Aug. 28, will be extended until the end of September.
The announcement came after the state recorded 644 new locally acquired cases and four deaths in the past 24 hours to 8:00 p.m. Thursday local time.
There have been 10,582 locally acquired cases reported in NSW since June. 16, when the first case in this outbreak was reported, accounting for roughly one-fourth of Australia's total COVID-19 cases since the initial outbreak early last year.
NSW Premier Gladys Berejiklian said the tightened restrictions came as a response to two factors.
"The first was the sudden escalation of cases, and secondly the feedback from police about a handful of people flagrantly disregarding the rules," she told the daily press conference on Friday.
The government also announced some new restrictions around workplaces and authorized workers from the areas of concern, such as childcare workers and disability support workers who live or work in these areas must have their first vaccination dose by Aug. 30.
Authorized workers who work outside these areas are only permitted to work if rapid antigen testing is implemented at their work-site or they have had their first vaccination dose by Aug. 30.
Authorized workers from these areas and people entering these areas for the purposes of work have to carry a permit from Service NSW from Aug. 28.
The state police force will also be given more power to ensure compliance including the power to lockdown apartment blocks while health assesses the COVID risk, to declare a residential premise a COVID-risk premise, and require all people to present to police during compliance checks and to direct a person who has been issued with an infringement notice to return to their place of residence.
Those from outside who enter these areas without a reasonable excuse will be fined 1,000 Australian dollars (about 714 U.S. dollars) and required to isolate at home for 14 days.
NSW Police Commissioner Michael Fuller said 3,500 tickets had been issued this week and it is difficult for police on the ground to manage those areas of concern.
Meanwhile, a permit system for travel between Greater Sydney and regional NSW will take effect from Saturday, Aug. 21. People who need to travel more than 50 km from Greater Sydney for work purposes, inspecting a potential new residence, or permanently relocating could apply for a permit.
Despite the tightened restrictions, Berejiklian flagged that there might be some freedom for those fully vaccinated people at the end of August without revealing more details.
Epidemiologist Professor Michael Toole from Burnet Institute told Xinhua that the current situation needs the government to "put in a kind of circuit breaker", and the harder restrictions should be imposed on a wider range.
"The seven-day average is 538 today and the doubling time is 10 days. So that means if the trend continues, there would be more than 1,000 on Sept. 1. You can't allow that trend to continue."
"The curfew is only in 12 local government areas of concern. It is not across Sydney. I think we need to have that across Sydney otherwise, we are always behind the virus." he said.