The latest: COVID-19 outbreak worldwide (Updated July 13)
People's Daily app
1594637177000
Globally, as of 6:30 BJT on Monday, there have been 12,685,374 confirmed cases of COVID-19, including 565,000 deaths, reported the World Health Organization.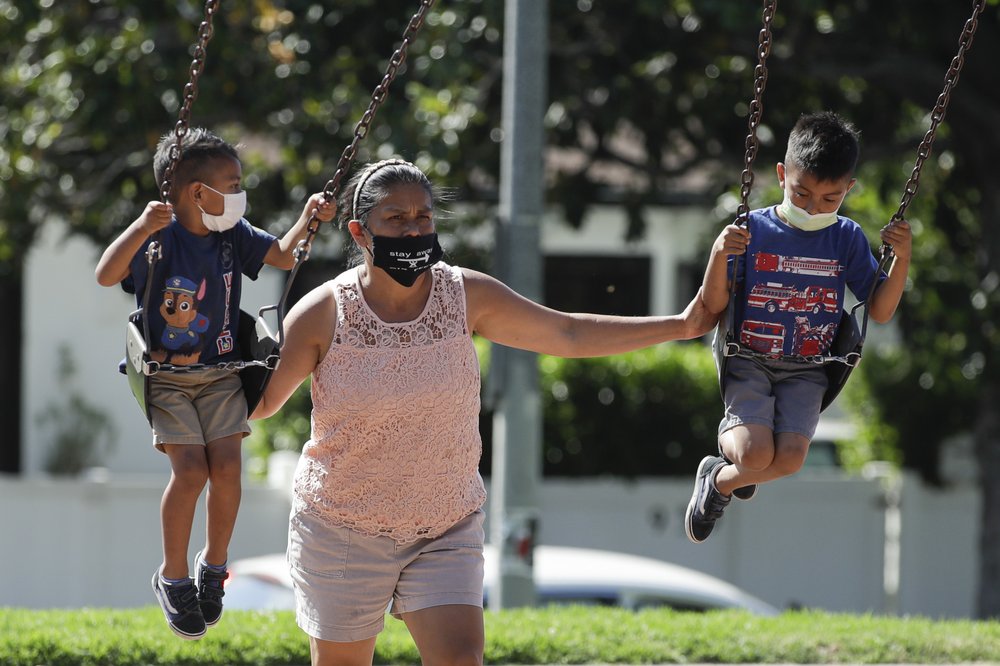 A woman and two children wear masks at a playground, Saturday, July 11, 2020, in Los Angeles. (Photo: AP)
Current status (data as of 6:30 pm BJT, July 13):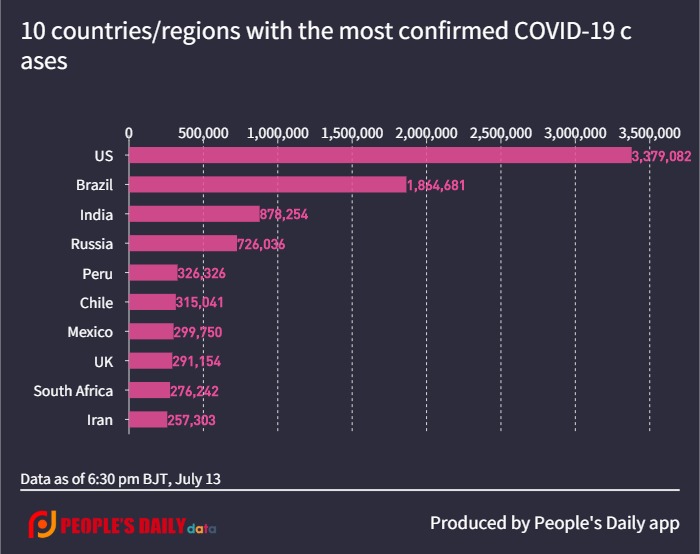 Sources: Xinhua, Johns Hopkins University, national public health agencies.
The outbreak has now claimed 137,397 lives in the US, the most of any country, with a total of 3,379,082 infections, according to a tally by the 1Point3Acres virus tracker as of 6:30 pm BJT on Monday.
Confirmed cases of COVID-19 in Brazil have increased to 1,864,681 with 72,100 deaths, Johns Hopkins reported.
India has confirmed a total of 878,254 COVID-19 cases, raising the number of deaths to 23,174.
Russia has confirmed 726,036 cases of COVID-19, with the number of deaths at 11,318.
Peru has reported 326,326 COVID-19 cases and 11,870 deaths from the virus so far.
A total of 315,041 people in Chile have tested positive for COVID-19, with the death toll at 6,979.
It is followed by Mexico with 35,006 deaths from 299,750 infections.
The UK's confirmed cases have increased to 291,154, with the number of deaths at 44,904, according to the JHU virus tracker.
South Africa has recorded 276,242 confirmed cases and 4,079 deaths.
The coronavirus pandemic has claimed 12,829 lives in Iran, bringing the total number of infections to 257,303.