Blinken says US to reopen consulate in East Jerusalem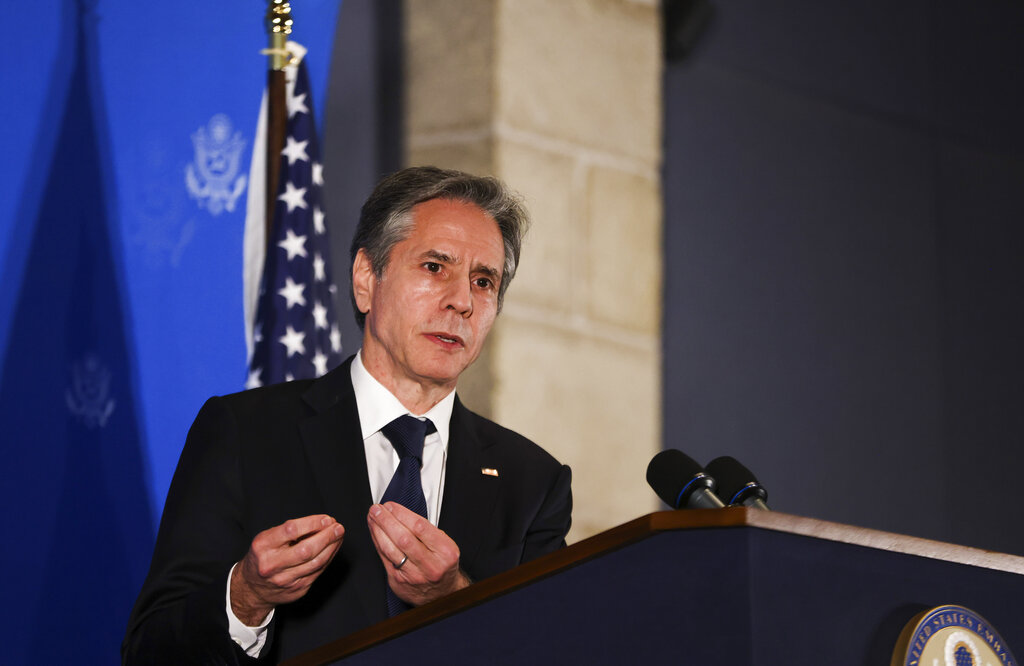 RAMALLAH, May 25 (Xinhua) -- U.S. Secretary of State Antony Blinken announced on Tuesday that his country will go ahead with the process of reopening its consulate in East Jerusalem and strengthen its ties with the Palestinian Authority.
Blinken made the remarks to reporters after he met with Palestinian President Mahmoud Abbas in the West Bank city of Ramallah.
The U.S. consulate in East Jerusalem was closed in late 2017 when former U.S. president Donald Trump recognized the disputed holy city of Jerusalem as the capital of Israel.
The Palestinians regard East Jerusalem, occupied by Israel in the 1967 war, as the capital of their future independent Palestinian state.
Meanwhile, Blinken welcomed the Egyptian-brokered ceasefire deal that ended the 11-day conflict between Israel and the Palestinian militant groups in the Gaza Strip.
"We welcome the ceasefire in Gaza and call for building on it," Blinken said, adding that "it is important to stabilize the ceasefire in coordination with the Palestinian Authority and the United Nations."
Blinken called for emphasizing the principle of the two-state solution, respecting the status quo on the al-Aqsa Mosque in East Jerusalem, and preventing the displacement of Palestinians from their homes in the city.
He said the U.S. will provide 75 million U.S. dollars in development aid to Palestine, in addition to 5 million dollars in relief support and another 2 million dollars to the United Nations Relief and Works Agency for Palestine Refugees in the Near East (UNRWA).
He pledged that the U.S. would strengthen its relations with the Palestinian Authority and the Palestinian people.
For his part, Abbas thanked the U.S. administration led by President Joe Biden for the efforts it had made in close cooperation with Egypt and the Arab and relevant parties to reach the ceasefire.
He said that "the ceasefire must include East Jerusalem and the West Bank, mainly stopping Israeli settlers' assaults and the Israeli occupation forces' attacks on the holy city of Jerusalem and on the Palestinian people."
Abbas also called on the U.S. to exert pressure on the Israeli government to stop Israeli attacks against the Palestinians in East Jerusalem, particularly the al-Aqsa Mosque, prevent the forced expulsion of Palestinians from their homes in Jerusalem, and stop Israel's expropriation of Palestinian land for settlement activities.
Earlier on Tuesday, Blinken held a meeting in Jerusalem with Israeli Prime Minister Benjamin Netanyahu.
Speaking to the press after meeting Netanyahu, Blinken said the U.S. will work to rally international support to rebuild the Gaza Strip and make its own "significant contributions."
But it will be ensured that "Hamas does not benefit from the reconstruction assistance," Blinken said, referring to the Islamic Resistance Movement that rules the besieged Palestinian enclave.
Netanyahu warned that his country will launch a "very powerful response" if Hamas renews rocket attacks at Israel.