Brazil's Rio de Janeiro opens 2nd field hospital for COVID-19 patients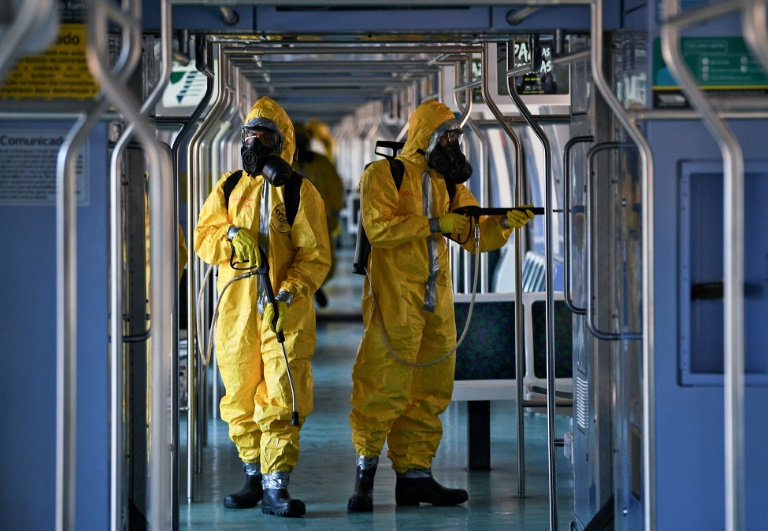 Brazilian soldiers disinfect a train wagon at the central station in Rio de Janeiro. (Photo: AFP)
RIO DE JANEIRO, May 1 (Xinhua) -- The Brazilian city of Rio de Janeiro opened on Friday its second field hospital to serve patients infected with COVID-19, as the pandemic has put a strain on the city's public hospital network.
It is the largest field hospital of the nine planned to be installed in the city, with facilities occupying 13,000 square meters at the Riocentro convention center. The new field hospital has 500 hospital beds, including 100 in the intensive care unit (ICU) and 15 for the hemodialysis unit.
At the hospital's inauguration, the hospital director, cardiologist Valesca Marques, said, "We will do everything in our power, day and night, so that we can return patients to their families alive and well."
The first field hospital in Rio de Janeiro was inaugurated on April 25 in the southern neighborhood of Leblon, with a 200-bed capacity. A third field hospital will be opened next week in the Maracana soccer stadium, with 400 beds, including 80 for the ICU.
Rio de Janeiro State Governor Wilson Witzel has promised 1,800 hospital beds in field facilities by the end of May.
Rio de Janeiro state has been severely affected by the COVID-19 pandemic, second only to Sao Paulo. As of Thursday, the state of Rio de Janeiro had registered 9,453 confirmed cases and 854 deaths.