Chinese ambassador to Pakistan rejects US allegations about CPEC
People's Daily app
1574433805000
Islamabad (People's Daily) – "Pakistan-China Relations are based on win-win cooperation and mutually beneficial," Chinese Ambassador to Pakistan Yao Jing said Friday while addressing the 5th China-Pakistan Economic Corridor (CPEC) Media Forum in Islamabad.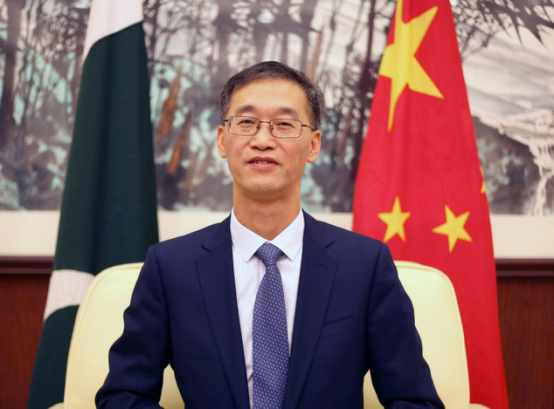 Chinese Ambassador to Pakistan Yao Jing
The remarks were made in response to the top US diplomat for South Asia's "groundless" allegations against the CPEC on Thursday.
According to AFP, Alice Wells, the acting assistant secretary of state for South Asia, said that the CPEC would profit only China leaving Pakistan faced with "long-term economic damage with little return."
Yao said that China had always come forward to assist Pakistan in need without any political or government issues. Yao questioned why the US had suspended its aid pledged to Pakistan due to political priorities.
"When Chinese companies were establishing power plants in Pakistan, where was the US? Why it did not invest in Pakistan's power sector despite knowing that Pakistan was in dire need of electricity?" Yao added.
Yao said China was determined to build capacity for Pakistani businessmen and industrialists to boost productivity in the country which would ultimately help increase the exports of Pakistan.
"I would be more happy to see more investment coming from the United States in Pakistan," the Chinese ambassador said.
Pakistani Minister for Planning, Development and Reform and Special Initiatives Asad Umar said on Friday during a meeting with the Chinese ambassador that the ongoing development of the CPEC would bring about socioeconomic benefits for the welfare of the people, Radio Pakistan reported.
Umar said CPEC offered enormous potential to boost the national economy and reduce poverty.
As a major pilot project of the China-proposed Belt and Road Initiative, CPEC has been widely recognized as a game-changer in Pakistan.
National Assembly Speaker Asad Qaiser highlighted the importance of the CPEC to Pakistan on Thursday, saying that it would help strengthen the country's economy.
Qaiser said Pakistan's economy had been suffering from terrorism for many years prior to the CPEC, and is now "seeing the light in the form of CPEC, which will take us toward lasting development and prosperity."
The speaker also assured all possible support of the Pakistani government and Parliament in smooth execution of the CPEC related projects as this is in "our own national interest."