The latest: COVID-19 outbreak worldwide (Updated November 19)
People's Daily app
1605786571000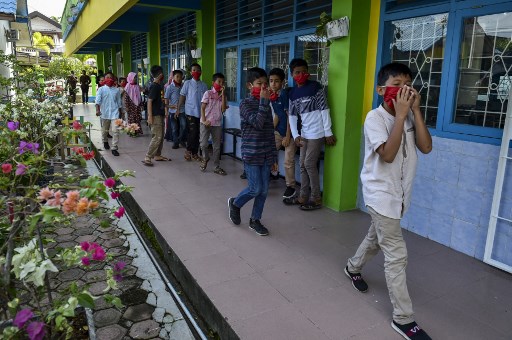 The total number of deaths from the COVID-19 pandemic worldwide has increased to 1,351,237 with the global confirmed cases reaching 56,341,231 as of 7:30 pm BJT on Thursday, according to a tally by Johns Hopkins University.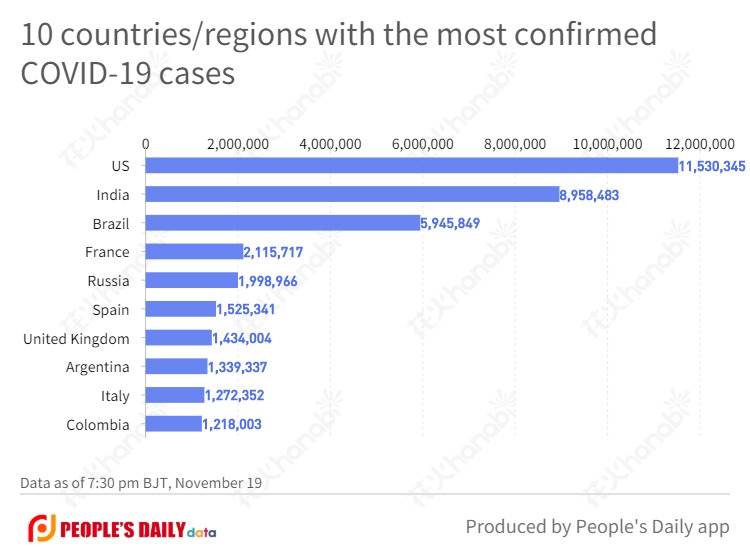 Current status (data as of 5:00 pm BJT, November 17):

India's COVID-19 tally reached 8,958,483 on Thursday as 45,576 new cases were registered across the country in the past 24 hours, according to the latest data released by the federal health ministry. With 585 deaths since Wednesday morning, the total death toll in the country due to the pandemic mounted to 131,578.
Germany's confirmed COVID-19 cases rose by 22,609 to 855,916, said the Robert Koch Institute (RKI), the federal government agency for disease control and prevention, on Thursday. Meanwhile, the national death toll from the disease rose by 251 to 13,370, the RKI added.
The number of confirmed COVID-19 cases in Indonesia increased by 4,798 in the past 24 hours to 483,518, with the death toll rising by 97 to 15,600, the Health Ministry said on Thursday.
Egypt registered late on Wednesday 329 new COVID-19 infections, the highest daily cases since July 31, bringing the total cases in the country to 111,613, said the Egyptian Health Ministry.
South Korea reported 343 more cases of the COVID-19 as of midnight Wednesday compared to 24 hours ago, raising the total number of infections to 29,654.
Ukraine registered 256 new COVID-19 deaths in the past 24 hours, bringing the total toll to 10,112, the country's health ministry said on Wednesday. A total of 12,496 people tested positive for COVID-19 in the country in the past 24 hours, while 8,096 patients have recovered.