DPRK detains fishing ship with 15 Russians, 2 South Koreans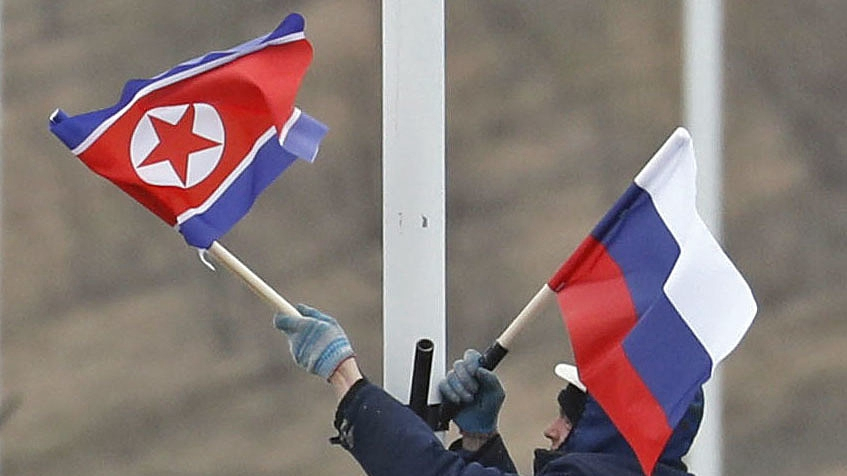 Russian and DPRK flags are set up on a roadside in Russky Island, off Vladivostok in Russia, April 23, 2019, ahead of a summit between Russian President Vladimir Putin and DPRK leader Kim Jong Un. (Photo: VCG)
The Democratic People's Republic of Korea (DPRK) is holding a Russian fishing ship with a crew of 15 Russians and two South Koreans since its detention last week, the Russian embassy in Pyongyang said Wednesday.
DPRK border guards detained the ship belonging to the Russian North-Eastern Fishing Company on July 17.
"According to the North Korean (DPRK's) Foreign Ministry, the ship was detained for 'violating rules of entry and stay'" in the DPRK, the embassy said in its Facebook page.
Representatives of the Russian embassy met with the Russian captain and a deputy being held in a hotel in the DPRK city of Wonsan, together with the two South Korean sailors, it said. The rest of the crew is still on the ship.
"All the crew members are in good health," the statement said, adding that "the clarification of what happened" was underway.
The deputy director of the North-Eastern Fishing Company, Sergei Sedler, said the vessel was fishing for crab and traveled from South Korea to the Sea of Japan when it was detained some 55 nautical miles from the DPRK border.
"Twice a day they are questioning and searching them in a very harsh manner," he told Russia's Kommersant daily, referring to the crew on board.
Russia has maintained relatively close ties with the DPRK. In late April, DPRK leader Kim Jong Un visited Vladivostok in Russia's Far East and met with President Vladimir Putin.
South Korea's Unification Ministry also said on Wednesday that two South Korean sailors, in their 50s and 60s, are being held in the DPRK, Yonhap reported.
"The (South Korean) government will do their best to confirm the safety of our nationals and make sure a positive measure can take place based on our discussions channel with the North and close cooperation with the Russian authorities," the ministry said in a statement.
Meanwhile, an official of the ministry said the DPRK is refusing to accept food assistance from South Korea over Seoul's planned joint military exercise with the United States.