Indonesia's most active volcano erupts
JAKARTA, Feb. 13 (Xinhua) -- The most active volcano, Mount Merapi, in Indonesian Java Island, erupted on Thursday morning, and a warning over the risks of hot clouds and volcanic materials was issued, the volcanology agency said.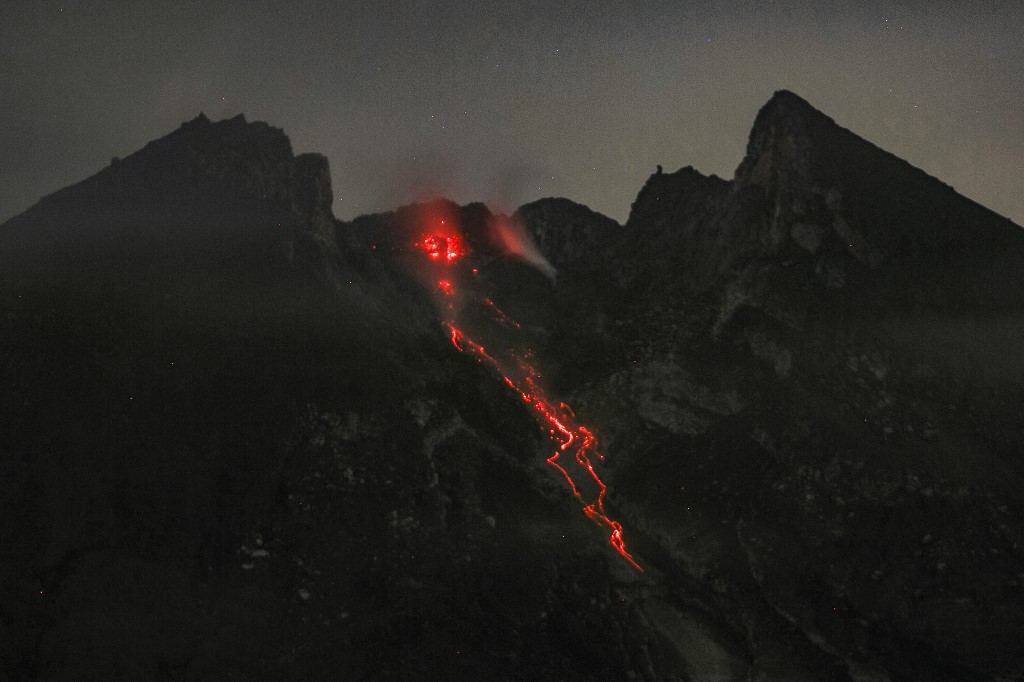 In this picture taken on January 7, 2019 lava streams down from Indonesia's volcano Merapi as seen from Klangon hill in Sleman, in Yogyakarta province. (Photo: AFP)
The 2,930-meter-high volcano spewed a column of ash by up to 2,000 meters to the sky, the agency said.
Mount Merapi is located about 28 kilometers north of Indonesia's province of Yogyakarta which has a 2.4 million population, and thousands of people living on the flanks of the volcano.
The volcanologists cautioned that further explosions would potentially cause the collapse of a lava dome, triggering slides of pyroclastics and other volcanic materials.
Besides, lava floods may also strike the areas situated in the slope of the volcano during heavy downpours in the areas around the crater of the volcano, they said.
The volcanologists have declared a no-go zone in the three-kilometer radius from the crater and urged the residents in the vicinity of the area to take precautionary measures on possible risks resulted from volcanic ashes and possible emergence of pyroclastic clouds, according to a statement from the agency.
Mount Merapi which is situated in the border shared by Central Java province and Yogyakarta province has regularly erupted since 1548.
A total of 353 people were killed and about 350,000 others were forced to evacuate during the eruption of the volcano from October to November 2010.
Mount Merapi is one of the 129 active volcanoes in the vast-archipelagic nation.