The latest: COVID-19 outbreak worldwide (Updated November 17)
People's Daily app
1605603095000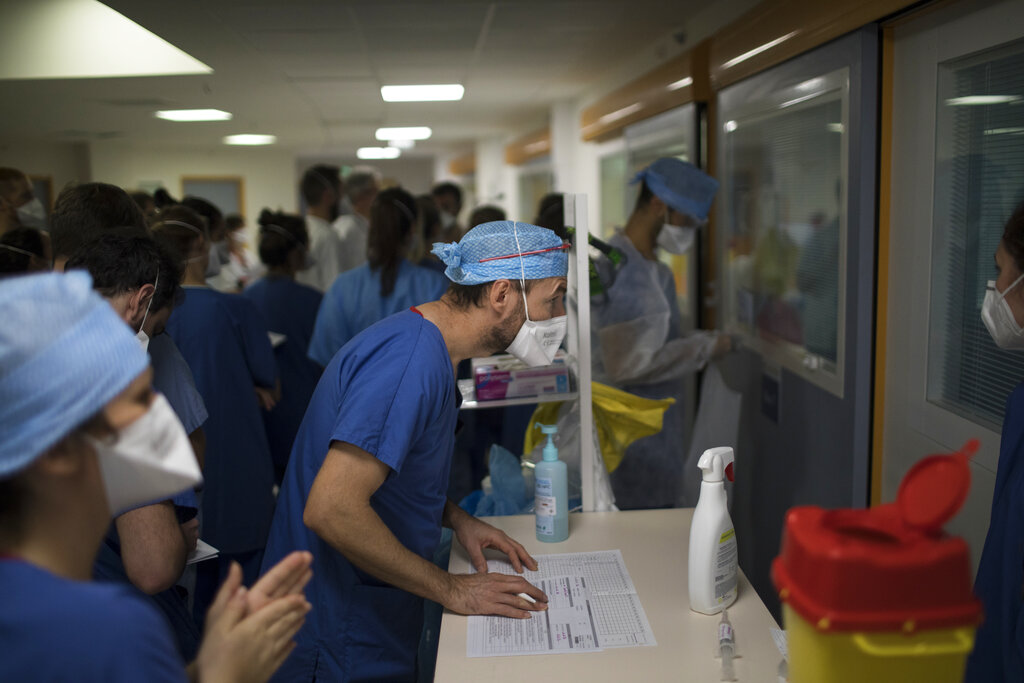 The total number of deaths from the COVID-19 pandemic worldwide has increased to 1,327,500 with the global confirmed cases reaching 55,033,418 as of 5:00 pm BJT on Tuesday, according to a tally by Johns Hopkins University.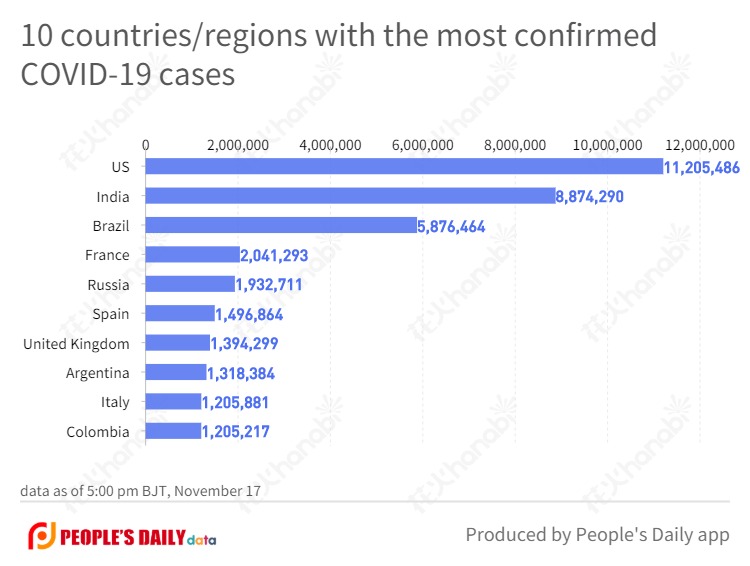 Current status (data as of 5:00 pm BJT, November 17):
India's COVID-19 tally reached 8,874,290 on Tuesday as 29,163 new cases were registered across the country in the past 24 hours, said latest data released by the federal health ministry. This is the first time in several months when the number of new COVID-19 cases in the country has come down below 30,000-mark.
With 216 deaths reported in the last 24 hours, Brazil's death toll from COVID-19 hit 166,014, the Ministry of Health reported on Monday. The ministry said that another 13,371 cases were recorded in the last 24 hours, raising the national caseload to 5,876,464.
Germany's confirmed COVID-19 cases rose 14,419 to 815,746, said the Robert Koch Institute (RKI), the federal government agency for disease control and prevention, on Tuesday. The total death toll from the disease rose by 267 to 12,814, the RKI added.
South Korea reported 230 more cases of the COVID-19 as of midnight Monday compared to 24 hours ago, raising the total number of infections to 28,998.
Iran on Monday registered 486 daily deaths over COVID-19 and 13,053 new cases over the past 24 hours, the highest daily figures since the outbreak of the disease in the country. Meanwhile, Morocco's tally of infections approached 300,000.
The Department of Health (DOH) of the Philippines on Tuesday reported 1,148 new confirmed cases of COVID-19, bringing the total number in the country to 410,718. Tuesday's number of new daily cases is the lowest since Nov. 4. The DOH has been reporting less than 2,000 cases of daily increase since Nov. 10.
New Zealand reported four new cases of COVID-19 on Tuesday, all detected in recent returnees in managed isolation. The country's total number of confirmed cases of COVID-19 is now 1,649, according to the ministry.