Sydney suffers another day of 'hazardous' air quality due to bushfires
SYDNEY, Nov. 21 (Xinhua) -- Sydney's normally picturesque skyline was once again blanketed by thick smoke on Thursday, as around 50 bushfires continued to burn across Australia's east coast.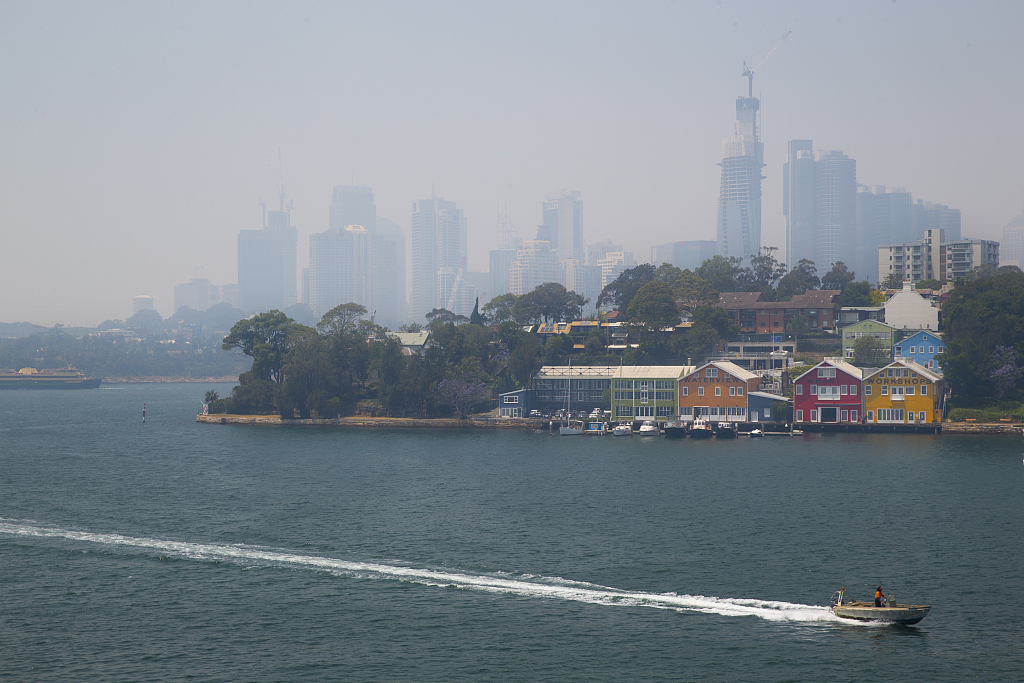 Smoke haze due to bushfires obscures the Sydney CBD on November 19, 2019 in Sydney, Australia. (Photo: VCG)
Deemed "hazardous" by the New South Wales (NSW) State Department of Environment, health authorities have urged schools to keep children indoors during lunch breaks.
"It's important that if you do have children just try and keep them indoors or discourage them from exercising too much outside," Richard Broome from NSW Health told the Australian Broadcasting Corporation.
"They're often more active particularly outdoors so they're more likely to inhale the smoke in large quantities."
For the second time in just two days Sydney's famed Opera House and Harbor Bridge were entirely blocked out by the haze.
With similar conditions on Tuesday, local media reported that around 60 people, mainly with respiratory problems like asthma, have been treated in hospital due to the poor air quality.
According to Rural Fire Service NSW Commissioner Shane Fitzsimmons, with more warm weather on the way it appears likely the severe conditions will persist for days to come, as over 1,000 personnel continue to battle blazes across the state.
"Another difficult day for firefighters, for people in these at-risk areas," Fitzsimmons told the Seven Network.
With winds of up to 60 km per hour forecast across the southern border region, Fitzsimmons said it could present significant challenges for fire crews.
Six people have died in the state as a result of bushfires over the past few weeks.
Around 600 homes have also been destroyed.