What a US exit from the WHO means for COVID-19 and global health
People's Daily
1590961253000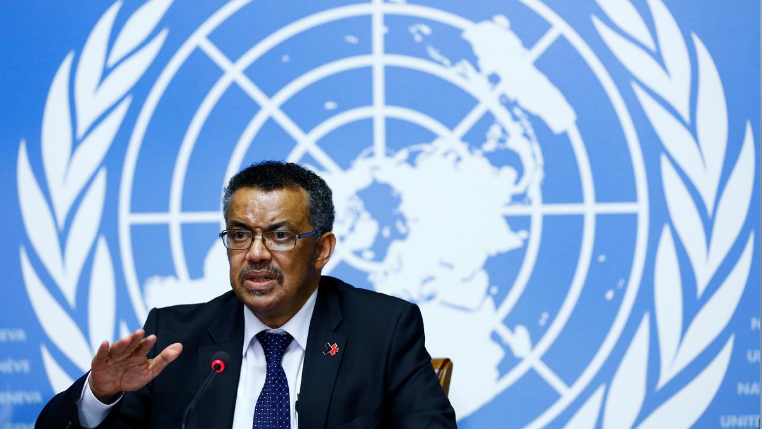 File photo of Director-General of the World Health Organization (WHO) Tedros Adhanom Ghebreyesus. (Photo: AFP)

As the US withdraws from the World Health Organization (WHO) amid the global fight against the ravaging COVID-19 pandemic, health experts foresee incoherence, inefficiency and a resurgence of deadly diseases, top scientific journal Nature wrote in an article earlier this week.

President Donald Trump announced at a news briefing on Friday that the country is terminating its membership with the WHO, which follows a steady ramping up of blame and accusations hurled at the agency as COVID-19 infections topped 1.7 million in the US and the death toll exceeded 100,000.

So what exactly does the proposal mean for COVID-19 containment and global health? Experts analyzed the repercussions in the article.

The decision is particularly damaging at a critical time

The proposal is particularly damaging at a critical time like this, when international coordination and cooperation are essential to contain the coronavirus, experts say. "In this pandemic, people have said we're building the plane while flying," said Rebecca Katz, director of the Center for Global Health Science and Security at Georgetown University in Washington DC. "This proposal is like removing the windows while the plane is mid-air."

It's not clear when Trump's decision would come into effect. But when the US joined the WHO in 1948, a joint resolution of Congress said the country "reserves its right to withdraw from the organization on a one-year notice."

According to the joint resolution, Trump may need Congressional approval to exit the agency, said Jennifer Kates, the director of global health & HIV policy at the Kaiser Family Foundation in Washington, DC. But she added that previous presidents were able to withdraw from treaties without Congress stepping in. "This is murky legal territory," she said.

Resurgence of deadly disease

The USp rovides 27 percent of the WHO's budget for polio eradication; 19 percent of its budget for tackling tuberculosis, HIV, malaria and vaccine-preventable diseases such as measles; and 23 percent of its budget for emergency health operations. If these initiatives shrink, death and suffering will surge, researchers say.

David Heymann, an epidemiologist at the London School of Hygiene and Tropical Medicine, says this will also amount to squandered investment for the US, particularly for polio. Gains won through vaccination campaigns that have cost hundreds of millions of dollars would be lost, he says.
Substitute proposals by Trump may add incoherence and cause waste of previous investment

Trump has said that instead of the WHO, he would redirect the funds to other global health projects that "deserve urgent global public health needs." For example, there have been reports that the US State Department is proposing an initiative amounting to 2.5 billion dollars that would oversee national and international pandemic responses, called the President's Response to Outbreaks (PRO).

However, such proposals for new US-led initiatives for pandemic prevention and control do little to quell researchers' concerns. Some say these efforts might even add incoherence to the world's response to COVID-19, and global health more generally, if they're not connected to a fully-funded WHO.

Amanda Glassman, a senior fellow at the Center for Global Development, a think tank based in Washington, DC, says she and others don't expect the parallel efforts proposed by the US to be very effective, because it takes years to build partnerships with countries.

"You can't just show up in Afghanistan and start vaccinating people," echoed Kelley Lee, a global health-policy researcher at Simon Fraser University in Burnaby, Canada, stressing coordination by the WHO is important. Furthermore, the WHO works in several countries where there is little other international presence, adds Glassman.

Without the WHO, Glassman says, "we'd see a lot more incoherence in global health," which would end up wasting some of the 11 billion US dollars that the US spends on global-health programs each year.

Scientific cooperation will be weakened

Long-standing collaborations could be weakened, the article warned. Currently, scientists from the US Centers for Disease Control and Prevention (CDC) and National Institutes of Health often rotate through the WHO's headquarters in Geneva, Switzerland. Around 180 epidemiologists, health-policy specialists and other staff members at the WHO are from the United States, and dozens of other Americans work at the organization as visiting scholars and interns.

Most of their jobs aren't directly tied to US funding, but they could be affected as the relationship between the United States and the WHO is strained, says Lee. There could also be impacts on about 80 official WHO collaborating centers in the US.
"The US relies on multilaterals to work in countries where diplomatic ties are almost non-existent," says Suerie Moon, a global-health researcher at the Graduate Institute of International and Development Studies in Geneva. For example, US scientists were permitted to tour China in mid-February as part of a WHO mission to learn from its COVID-19 response.

US.epidemiologists also rely on information obtained through their WHO colleagues around the world. Glassman points out that this is especially important to US security interests as the pandemic escalates in Latin America. "We need something like the WHO to manage relationships and keep information flowing, whether that's genomic sequences or standards of care," she says.

US still owes the WHO membership fees

Trump last month halted funding for the WHO, the 194-member organization. So far this year, it has paid about one quarter – 34 million US dollars – of its membership dues, according to a WHO spokesperson.

In contrast, China has pledged to give two billion US dollars to the WHO over the next two years to help combat the coronavirus. The amount almost matches the WHO's entire annual program budget for last year.

And if the US pays nothing at all or terminates its relationship with the WHO, it will lose its voting rights at the organization, thus abandoning its ability to shape health agendas around the world, Lee says.