'Extremely dangerous' storm Dorian will make landfall in Florida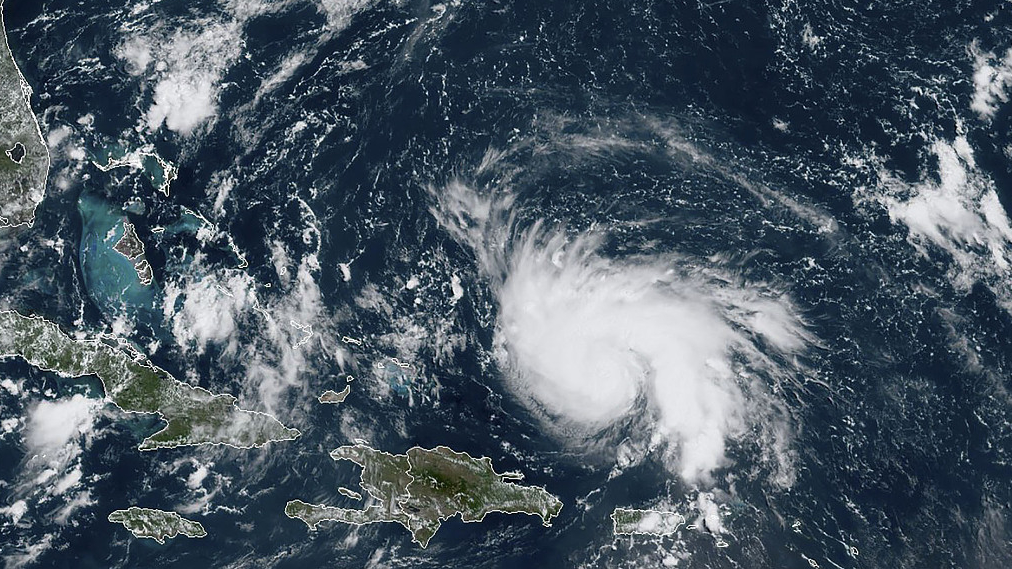 Tropical Storm Dorian approaches north-northwest of Puerto Rico and Florida at 15:40 GMT, August 29, 2019. (Photo:VCG)
The latest forecast on Hurricane Dorian shows that the powerful storm is expected to become a "major hurricane" on Friday and is expected to "remain an extremely dangerous hurricane through the weekend" as it barrels toward the southeastern United States.
The storm is currently a category one hurricane, but has the potential to become a Category four by the time it reaches the mainland. The storm is expected to hit somewhere between Florida and southern Georgia, possibly late on Sunday, the National Hurricane Center (NHC) forecasts.
President Donald Trump has canceled his visit to Poland on Thursday because of the storm. He said Vice President Mike Pence would make the trip to Poland in his place so that he could remain in the United States to make sure federal resources were properly directed at the arriving storm.
"It's something very important for me to be here. The storm looks like it could be a very, very big one indeed," the president said.
Florida Governor Ron DeSantis, who had already declared a state of emergency for 26 counties on the state's east coast, extended it on Thursday to the whole of Florida.
"Floridians need to take this storm seriously. Hurricane #Dorian is moving slowly & gaining strength," DeSantis wrote on Twitter. "Now is the time to get prepared & have a plan. Remember, we can rebuild a home but we can't rebuild your life. The safety of all Floridians is my top priority."
Georgia Governor Brian Kemp declared a state of emergency in 12 counties to assist with storm readiness, response and recovery.
Dorian, expected to strengthen in the Atlantic with violent winds topping 209 kilometers per hour. Such winds would make Dorian a Category four storm, the second-strongest on the Saffir-Simpson scale for measuring hurricane intensity. In 2008, the category-four-hurricane Ike caused at least 195 deaths, and 113 were in U.S. Due to its immense size, Ike also caused a total of at least 38 billion U.S. dollars in damage. The search-and-rescue operation after Ike was the largest search-and-rescue operation in Texas history.
After making landfall, Dorian was forecast to linger over central Florida on Tuesday, according to the NHC. Tropical storm-force winds could be felt in parts of the state as early as Saturday evening.
"We're worried. This is not looking good for us," said Angela Johnson, 39, bar manager at Coconuts On The Beach, a Cocoa Beach bar and restaurant on the town's surfing beach. "We woke up a lot more scared than we went to bed last night, and the news is not getting any better."
For the first time, U.S. emergency management department formally advised Floridians to have seven days of emergency supplies on hand. Previously, they'd said to have three days' worth.
Governor DeSantis said the storm "has the potential to severely damage homes, businesses and buildings, which is why all Floridians should remain vigilant."