Mexican medics severely short of hands and PPE
People's Daily
1590905561000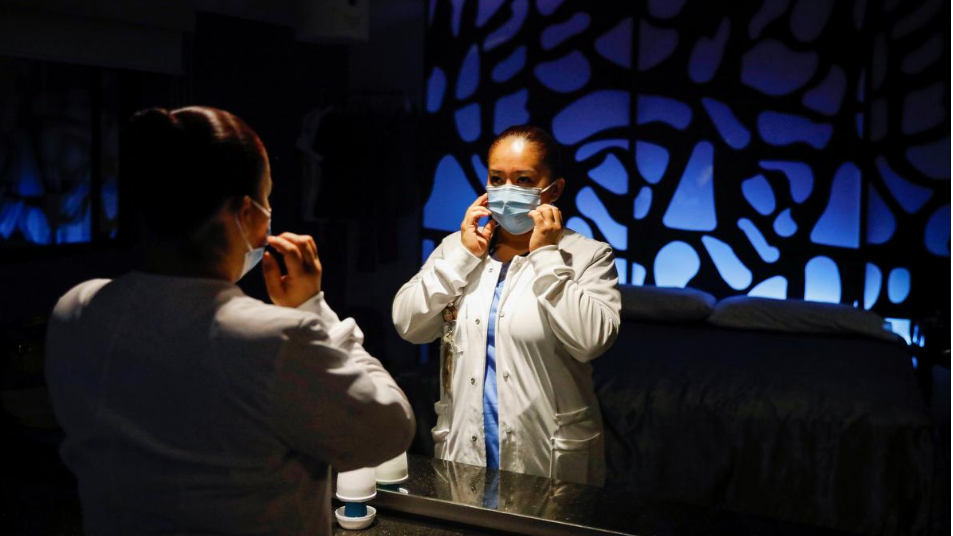 Nurse Gisela Hernandez puts her protective face mask on before going to work, at her hotel room in Mexico City, Mexico, May 29, 2020. (Photo: CGTN)
As a nurse on the frontline of Mexico's COVID-19 battle, Gisela Hernandez has stayed away from her children for nearly two months, sleeping in a hotel and even in her car to avoid infecting them because she feels heerself inadequately protected at work.
At night, she video calls her kids Santiago, five years old and Renata, nine, both asthmatic, to hear about what they've done during the day and remind them how much she misses them.
While Hernandez says she loves her work and considers the National Institute of Respiratory Diseases (INER) in Mexico City her second home, she is also afraid of contracting the coronavirus, which has killed at least 9,415 people in Mexico.
"I don't regret becoming a nurse because I like to help my patients," said the 40-year-old, whose hospital is one of the city's main centers treating patients of COVID-19, the respiratory illness caused by the coronavirus.
But she said she is "scared of getting sick... scared of never seeing my kids again."
Government data shows that health workers account for about a quarter of Mexico's total number of coronavirus infections, among the highest rates in the world. The risks are made worse by shortages of personal protective equipment (PPE).
Coronavirus cases are surging in Latin America, which along with the US is now an epicenter of the global pandemic. Frontline workers in Mexico City's hospitals, including Hernandez, have taken to the streets to complain about the conditions. A national march is planned for Monday.
How badly is Mexico hit by the coronavirus?
INER, which has been operating at its full capacity over the past week, said 49 of its workers have been infected at the hospital and another 54 have contracted the disease in the community, of which two have died.
A May 8 memo from INER's Biosafety Committee said a global PPE shortage would require workers to don reusable surgical uniforms and cloth hospital gowns, instead of disposable gear. The letter also told workers to use their N95 masks for full shifts.
"We exploded when we were told we were going to recycle the N95s," said Alejandro Cabrera, an INER nurse with two decades of experience.
Cabrera said workers are required to put their names on masks so the gear can be sent off for sterilization. "It's terrible!" he said.
Afraid of being infected when medical professionals had accounted for 23 percent of all of the country's infections as of that date, some have quit their jobs, making medics shortages much severer. The Mexican government says it needs another 6,600 doctors and 23,000 nurses to battle the crisis as 11,394 health workers had contracted the virus and 149 had died as of May 17.
A doctor at Dr. Carlos Mac Gregor hospital said the hospital is in severe lack of personnel and one doctor needs to take care of over 54 patients during the weekends, making such care very "deficient" for the patients' health.
Another doctor at the General Hospital in Tijuana told reporters that there is such a shortage of medical workers that critically ill patients are going eight hours without anyone checking on them during some shifts.
According to the World Bank, the Mexican government spend little on health care - less than three percent of its national output and far less than most countries in the Western Hemisphere. World Bank data shows that by 2017, well before Obrador took office, only two countries in Central and South America spent less on health system than Mexico as a share of their economies: Guatemala and Venezuela.
Even amid the pandemic, the president had cut spendings across government and public sectors, firing bureaucrats and slashing funds for everything from scientific research, the country's Olympic team to public health system, though economists across the ideological spectrum have warned that the austerity policy amid the crisis will push the country towards disaster.
Mexico ranks eighth in the world in COVID-19 deaths, with Mexico City and a neighboring state accounting for some 40 percent of the country's fatalities.
Despite the danger, Hernandez is doing her part to combat the disease.
She points to a box of chocolates and a yellow note from the family of one of her patients thanking and encouraging her to keep "working to save lives."
"That's one of the reasons I love my job so much, and despite the risks I still enjoy taking care of my patients," she said.