Vigil held for 34 victims in California dive boat fire
LOS ANGELES, Sept. 6 (Xinhua) - A public vigil was held on Friday evening in Santa Barbara, California, for the 34 people who died earlier this week in a diving boat fire off Southern California.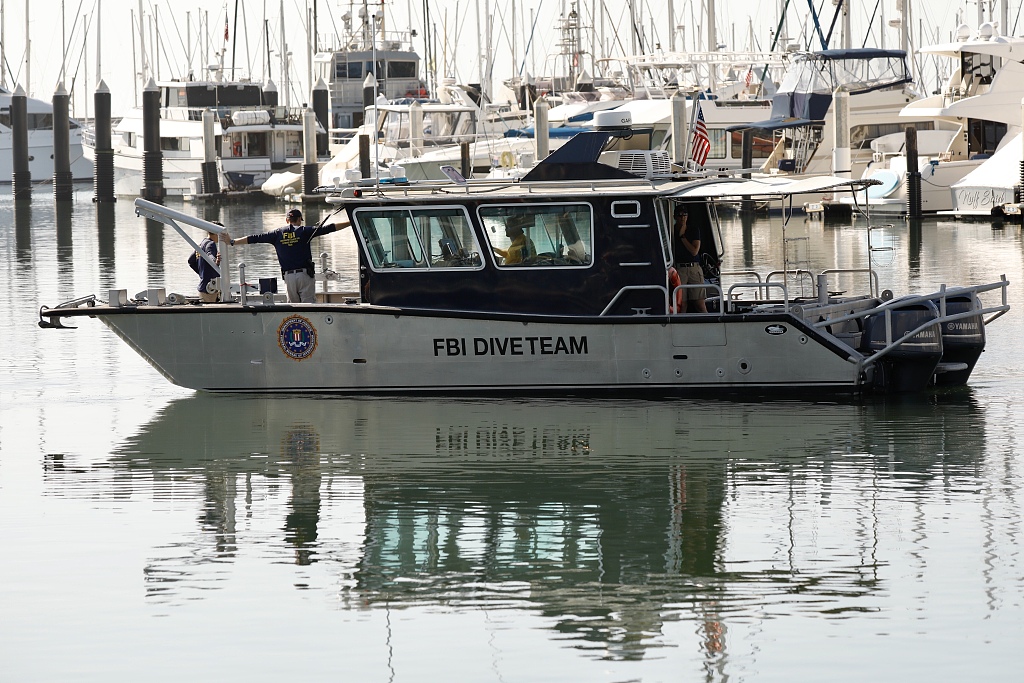 An FBI dive team boat moves through the Santa Barbara Harbor as they prepare to depart Thursday morning, September 5, 2019, for another day of diving to recover the final victim of the dive boat tragedy. (Photo: VCG)
Hundreds of people participated in the vigil to remember the deceased who were aboard the Conception, a 75-foot diving boat.
Mourners wept, embraced and placed white flowers in baskets at Santa Barbara's Chase Palm Park.
"Our common love of diving binds us together for eternity," said Don Barthelmess, a local dive instructor, at the vigil.
Chaplains and an official from Santa Barbara County's Department of Behavioral Wellness spoke about the need to heal after the tragedy and how the sea can be a source of comfort.
They stood in front of an arrangement of 34 scuba cylinders - one for each victim.
The 34 victims aboard the Conception were thought to be sleeping below deck when a fire broke out before sunrise Monday while the vessel was off Santa Cruz Island.
Five crew members on deck survived by jumping into the water, and were later rescued.
The cause of the blaze remains under investigation. Thirty-three bodies have been found and are being identified through DNA testing. The 34th victim has yet to be recovered.
Possible ignition sources included the electrical system, photography equipment, batteries, cameras and phones that were plugged in and charging when the fire broke out, according to US National Transportation Safety Board (NTSB).
The NTSB will release a preliminary report in 10 days on the cause of the boat fire, and a final report could take one to two years to finish, said NTSB member Jennifer Homendy.
The boat was on a three-day diving trip when it caught fire early Monday morning. It departed from Santa Barbara at 4 a.m. (1100 GMT) on Saturday for a diving excursion and was scheduled to return on Tuesday morning, according to the local authorities.