The latest: COVID-19 outbreak worldwide (Updated April 19)
People's Daily app
1587266977000
People applaud to show appreciation to medical workers fighting in the front line of combating Covid-19 pandemic outside Lions Gate Hospital in Vancouver, Canada, April 17, 2020. (Photo: Xinhua)
The total number of deaths from the COVID-19 pandemic worldwide has increased to 160,518 with the global confirmed cases reaching 2,328,600 as of 11am BJT on Sunday, according to a tally by Johns Hopkins University.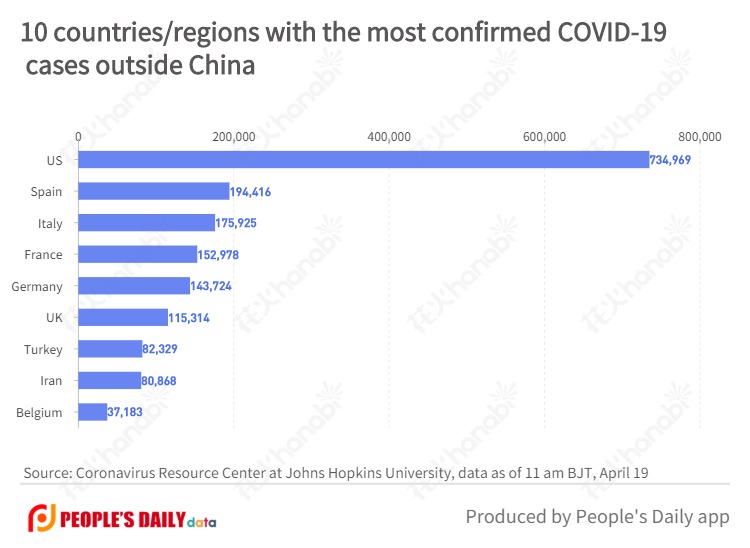 Current status (data as of 11 am BJT, April 19):
Chinese health authority said Sunday that it received reports of 16 new confirmed COVID-19 cases on the mainland Saturday, of which 9 were imported.
The coronavirus death toll in the United States climbed by 1,891 in the past 24 hours to reach 38,664 on Saturday, according to a tally by Johns Hopkins University.
Spain became the second European country to have over 20,000 deaths after Italy, while fatalities in France and Britain passed 19,000 and 15,000 respectively.
Turkey on Saturday surpassed Iran in the tally of total infections of COVID-19 as the confirmed cases in the country exceeded 82,000.
Iran allowed some businesses in the capital Tehran to re-open on Saturday as the country's daily death toll from the new coronavirus fell to 73, its lowest in more than a month.
188 new cases of COVID-19 and 19 new fatalities were confirmed in Egypt as of Saturday evening, said a statement from the country's health ministry.