The latest: COVID-19 outbreak worldwide (Updated May 1)
People's Daily app
1588324213000
Globally, as of 2:00am CEST on Thursday, there have been 3,090,445 confirmed cases of COVID-19, including 217,769 deaths, reported to WHO.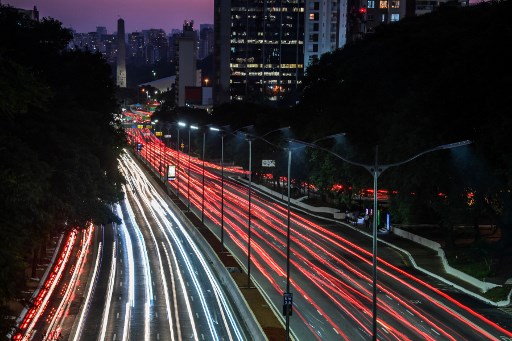 Long exposition picture of vehicles in motion along 23 de Maio Avenue -one of the most important in the city- in Sao Paulo, Brazil, on April 30, 2020, amid to the COVID-19 coronavirus pandemic. (Photo: AFP)
Current status (data as of 5 pm BJT, May 1):
Sources: Johns Hopkins University, national public health agencies.
The outbreak has now claimed the lives of at least 63,019 people in the US, the most of any country. The US also leads the world in the number of confirmed infections with 1,070,032, according to a tally by Johns Hopkins University as of 4:32 pm BJT on Friday.
The ministry said a total of 24,543 people have died from COVID-19 in Spain so far. There was also a significant fall in new cases, taking the country's total to 213,435.
The death toll on Thursday was 285, bringing the total to 27,967 in Italy. The new infections on the day were 1,872, bringing the total number of cases - combining infections, fatalities and recoveries to 205,463.
British Prime Minister Boris Johnson said Thursday that the country is "past the peak" of the COVID-19 outbreak as a total of 26,711 patients have died in hospitals, care homes and the wider community as of Wednesday afternoon. The UK now has 172,481 confirmed cases.
France now has 167,299 confirmed cases and the number of COVID-19 cases in Germany has increased to 163,009 with 6,623 deaths.
Turkish Health Minister Fahrettin Koca on Thursday confirmed 2,615 new COVID-19 cases and 93 more deaths in Turkey. The total number of confirmed cases in Turkey has increased to 120,204, while the death toll surged to 3,174, Koca tweeted.
There have been 114,431 who tested positive for COVID-19 and 1,169 who have died from the virus in Russia.
The total number of infections in Iran has risen to 94,640, with the number of deaths at 6,028.
Confirmed cases of COVID-19 in Brazil have increased to 87,187 with 6,006 deaths.