US defense secretary says 'restraint' on DPRK's 'new weapons' remarks
U.S. Defense Secretary Mark Esper on Thursday said the United States still sees a political agreement on denuclearization as the best path forward on the Democratic People's Republic of Korea (DPRK), but that American forces remain prepared to fight if necessary.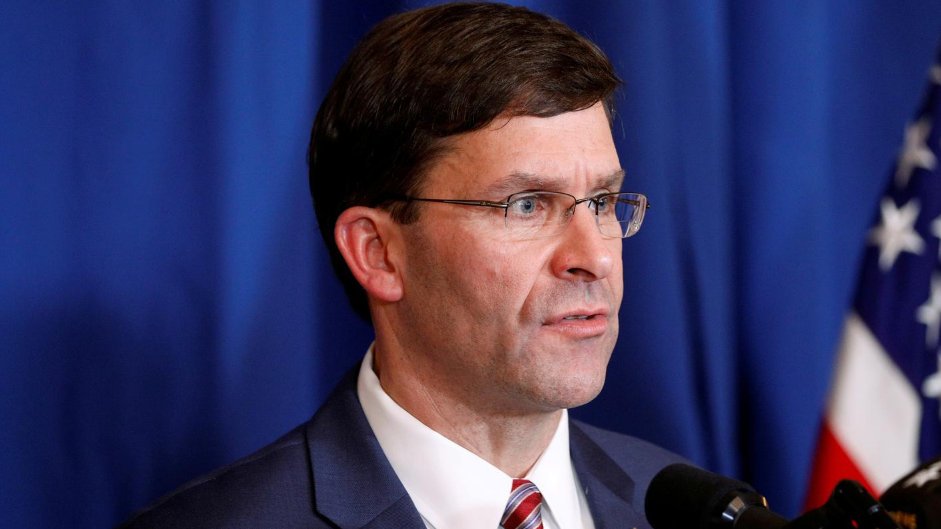 U.S. Defense Secretary Mark Esper speaks about airstrikes by the U.S. military in Iraq and Syria, at the Mar-a-Lago resort in Palm Beach, Florida, U.S., December 29, 2019. (Photo: CGTN)
"We would urge restraint by Kim Jong Un," Esper said in an interview on Fox News.
DPRK top leader Kim Jong Un declared that the country will promote the project for developing strategic weapons and "the world will witness a new strategic weapon to be possessed by the DPRK in the near future" during the plenary meeting of the Central Committee of the Workers' Party of Korea in Pyongyang at the end of December.
Pyongyang once warned Washington of a possible "Christmas gift" after Kim gave the U.S. until the end of the year to propose new concessions in talks over his country's nuclear arsenal.
As a response to Kim's statement on the "new strategic weapon," U.S. Secretary of State Mike Pompeo said the DPRK should choose peace over war.
The Republic of Korea (ROK) also urged the DPRK not to carry out its threats as it would be of no help to the denuclearization process and building a permanent peace mechanism on the Korean Peninsula.
Meanwhile, the ROK stressed its stance on the joint annual military drills with the U.S., which the DPRK has regarded as a threat.
There has been no change in a position that the two sides will carry out drills in an adjusted manner to back up diplomatic efforts for the denuclearization of the Korean Peninsula, said the ROK's defense ministry.
China stressed on Thursday that a political settlement of the Korean Peninsula nuclear issue serves the national interests of all parties, adding that the U.S. and the DPRK in particular, should meet each other halfway to try to break the current stalemate in nuclear talks.