Bangladesh reports 3 new COVID-19 cases, shuts all educational institutions
DHAKA, March 16 (Xinhua) - Bangladesh has decided to shut all the educational institutions in the country from Tuesday until March 31 in an effort to halt the spread of the deadly COVID-19.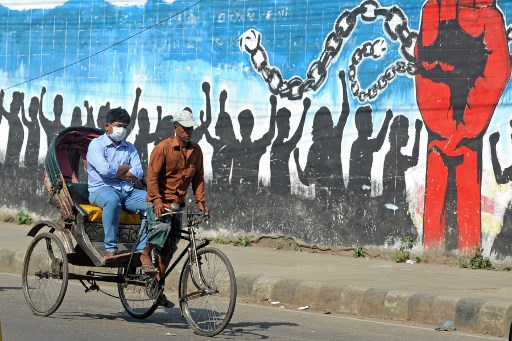 A man wearing a facemask amid concerns over the spread of the COVID-19 novel coronavirus, travels in a rickshaw through a street, in Dhaka on March 15, 2020. (Photo: AFP)
The decision came as the country confirmed three more new COVID-19 cases earlier Monday, taking the total to eight.
Education Minister Dipu Moni announced the closure of educational institutions at a press briefing in Dhaka with a plea to the students to stay home and remain cautious.
The country's first three COVID-19 patients have already returned home after recovery.