North Macedonia, Cyprus establish diplomatic ties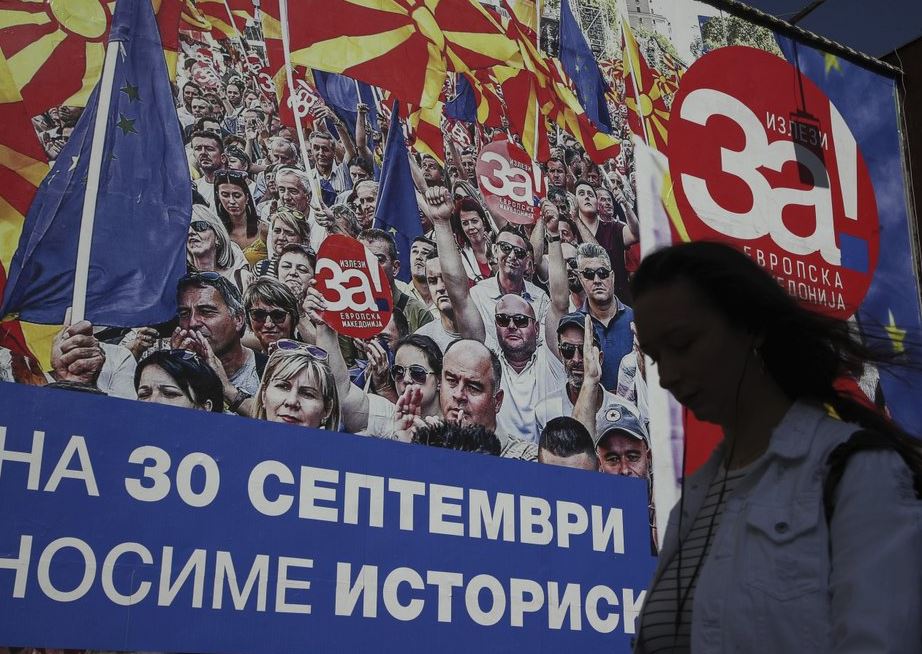 A pedestrian passes a banner that reads "For European Macedonia - On Sept. 30 we make a historic decision" in Skopje, Saturday, Sept. 29, 2018. (File photo: AP)

NICOSIA, Aug. 30 (Xinhua) -- Cyprus and North Macedonia announced on Friday that they established diplomatic relations for the first time.
An announcement was made by the Cyprus News Agency in a report from Helsinki, where Cypriot Foreign Minister Nicos Christodoulides and North Macedonia's counterpart Nikola Dimitrov met on the sidelines of an unofficial meeting of EU foreign ministers.
Part of the meeting was also attended by the Foreign Ministers of Balkan states who were invited to Helsinki.
"Foreign Minister Nicos Christodoulides signed a joint statement with the Foreign Minister of North Macedonia Nikola Dimitrov, establishing diplomatic relations between the two countries," Cyprus News Agency reported from Helsinki.
"The establishment of diplomatic relations opens the possibilities for the development of political dialogue at all levels and the deepening of economic, cultural and all other forms of cooperation between the two countries," North Macedonia's foreign ministry said in a statement.
In the social media Twitter, Dimitrov called this moment a solemn and long awaited occasion.
"A solemn and long awaited occasion -- establishing diplomatic relations between North Macedonia and Cyprus. May our friendship flourish and bring many great opportunities for cooperation and prosperity of our people," tweeted Dimitrov.
Cyprus and North Macedonia did not have any diplomatic relations in the past, in line with Greece which it did not recognize its northern neighbor because it objected to the use of the name Macedonia, saying that it implied territorial claims on the Greek region of Macedonia, which carried that name since classical times.
Greece and Cyprus signed the Prespa Agreement last year, by which North Macedonia obtained its current name, ending a long-standing dispute with Greece.