Data shows Canada's early COVID-19 cases came from the US not China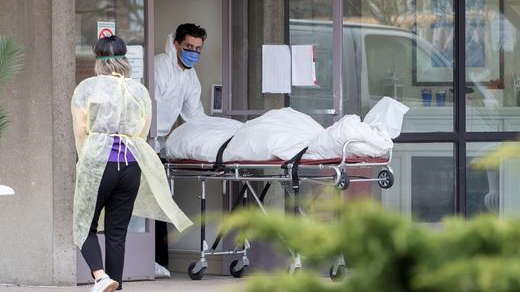 A body is transported on a stretcher after several residents died of the coronavirus disease at the Eatonville Care Centre, Canada. (Photo: Agencies)
Data from Canada's largest provinces show it was American travelers, not Chinese, who brought the novel coronavirus to Canadian shores, according to the National Post Friday.
The National Post in Canada asked for data on the origins of travel-related cases in four provinces that have seen the majority of Canada's COVID-19 cases.
As of April 17, Ontario has identified 1,201 cases of COVID-19 in people who had recently returned from some type of international travel. Of those cases, just five related to travel from China. By contrast, 404 were from people travelling from the U.S.
The other top five destinations were the United Kingdom with 126 cases, cruise ships with 74 cases, Mexico with 68 and Spain with 49 cases; Travel from Iran was connected to 19 cases and there were seven cases from Italy, said the National Post.
In Quebec, 373 cases came from the U.S. and the province reports zero cases connected to travel from China. Travelers from France brought 151 cases to Quebec, 121 originated in Puerto Rico and 117 in Austria.
"In March, we in very quick succession told people not to go on cruises, issued a global travel health notice, because you can't actually tell which country the virus will come from, followed by the succession of border measures," said Dr. Theresa Tam, Canada's chief public health officer.
All of Canada's early cases came from travel, but overtime as travel restrictions came into force and the number of people visiting slowed to a trickle they have become a much smaller part of the picture.
In Ontario, for example, on April 1, there were 695 cases connected to travel and as of Monday 1,395 — almost double. But during the same time period the overall number of cases has increased roughly five-fold.
Theresa Tam's deputy, Dr. Howard Njoo said that the few cases Canada did get from China were Canadians returning home.