Care homes the new frontline in UK in combating COVID-19 pandemic
People's Daily app
1588175983000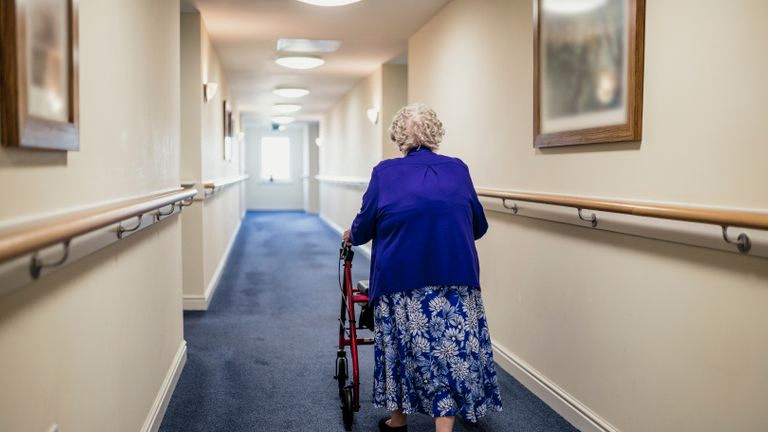 File photo
As of Monday, there have been 21,678 COVID-19 victims in the UK, according to its Department of Health and Social Care. This number only reflects deaths within hospitals across the country. Thousands more people in care homes died without being tallied in the government's figure.
Since the outbreak of COVID-19, cases of infection and death in the UK have been gathered and reported on a daily basis. To better reflect the lost caused by the pandemic, UK's Office for National Statistic (ONS) also started to reveal deaths from care homes and private houses as well as hospitals, on a weekly basis. As a result, death toll from ONS comes out 35% higher than the government's figures, showing that there is a growing number of people dying in care homes.
According to the Guardian, the UK's COVID-19 frontline has switched from hospitals to care homes, as deaths in some of the largest care home networks have surged by more than 70% in the last week or two. A care home provider reported 244 COVID-19 deaths in its facilities, a 74% rise in 6 days, including 18 deaths in a single home in north London where a care worker also died.
Elderly people are especially vulnerable to this fatal virus. In March, the UK government urged all citizens age 70 and above to self-isolate. For this reason, most care homes in the UK no longer allow families and friends of their residents to visit. Matt Hancock, the Health Secretary of UK, said at a coronavirus briefing that "care homes have been a top priority right from the start."
However, the government failed to provide Personal Protect Equipment (PPE) for care home workers, and refused to let them and their residents get tested until last week because of a lack of testing capacity. This flaw directly led to outbreaks in many care homes. According to Sky News, deaths in care homes now account for a third of the country's total deaths linked to COVID-19. The BBC said nearly half of COVID-19 deaths in Northern Ireland and Scotland occurred in care homes.
Although COVID-19 deaths in UK hospitals have already passed their peak, projections show that deaths in care homes are still expected to rise in coming days. Mike Padgham from the Independent Care Group said care homes are now the "true front line" in the fight against COVID-19. With fewer COVID-19 patients dying in hospitals, the Sun said it is possible that care home deaths in the UK will "overtake hospital fatalities."
"Once you've got one case in a nursing home, you've got a potential problem. Residents are elderly, densely packed in, with poor quality PPE, it's a perfect storm," said Professor Carl Heneghan, director of the Center for Evidence-Based Medicine at Oxford University. "They need the same cleaning regimes and PPE that hospitals have been using to prevent the spread of this virus."
Vic Rayner, executive director of the National Care Forum, urged the government to provide "the right PPE equipment, medical monitoring devices, rapid and comprehensive testing, proper funding and intensive research" in order to protect care home staff and residents.
In response, a spokesperson from Department of Health and Social Care said local authorities have been given an extra 1.6 billion pounds ($xx billion) to address the additional pressures. "Social care staff are on the frontline of our fight against coronavirus and we are making sure the social care system, and other public services, have all the resources they need during the COVID-19 outbreak."