COVID-19 started circulation since late 2019: British researchers
People's Daily app
1589008773000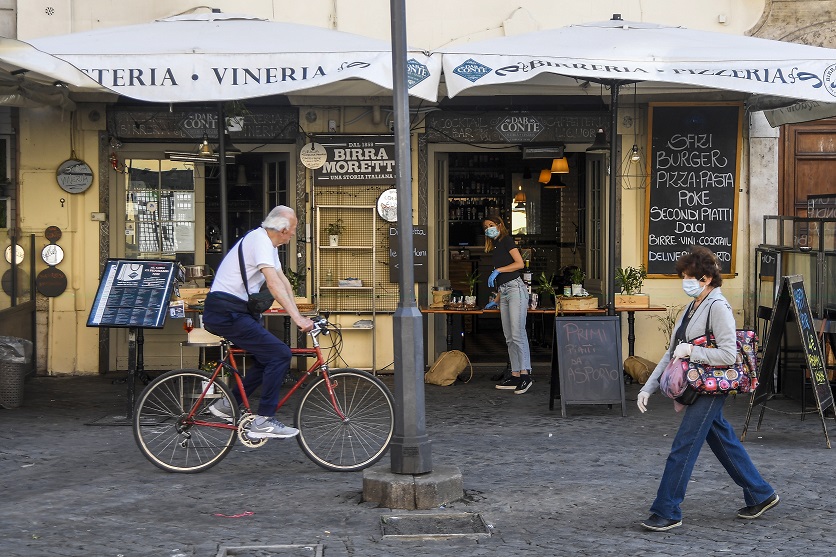 Photo: A waiter (Rear C) waits for customer outside a bar offering takeaway service in central Rome on May 8, 2020 during the country's lockdown aimed at curbing the spread of the COVID-19 infection, caused by the novel coronavirus. /AFP
A genetic analysis of COVID-19 based on 7,600 samples taken at different times and from different places around the world shows the virus began its infection and circulation at the end of 2019, according to a report by CNN citing researchers from Britain.
The researchers also found genetic evidence that the virus was likely to infect people in Europe, the US and elsewhere weeks or even months before the first official cases were reported in January and February.
Many previous studies have shown that COVID-19 originated in a bat and had to have infected another animal before it could be transmitted to humans.
"We are really, really, really confident that the host jump happened late last year," said Francois Balloux of the University College London Genetics Institute, adding that all the sequences of the virus they obtained share a common ancestor towards the end of 2019.
Balloux explained that their conclusion was drawn because viral samples taken from all corners of the globe show multiple mutations, and they are similar mutations.
"It will be impossible to find the 'first' patient in any country," Balloux said, "All these ideas about trying to find a Patient Zero are pointless because there are so many patient zeros."
"The virus has been introduced and introduced and introduced in almost all countries," Balloux said, estimating that about 10 percent of the global population has been exposed to the virus.
(Compiled by Xu Kai)