French COVID-19 outbreak does not come directly from China: Study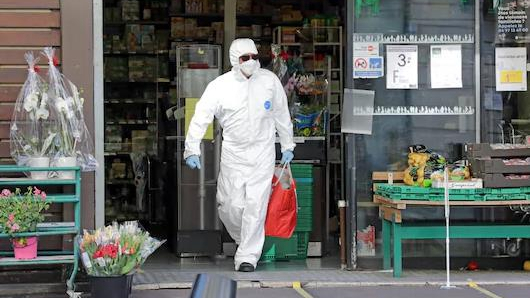 A man wearing protective suit and face mask leaves a supermarket after shopping in Nice, as a lockdown is imposed to slow the rate of COVID-19 in France. (Photo: Agencies)
A genetic study done by French scientists revealed that the COVID-19 outbreak in France was caused by a locally circulating strain with unknown origin, rather than cases imported from China or Italy.
The pre-print study, entitled "Introductions and early spread of SARS-CoV-2 in France", was done by researchers from the Pasteur Institute in Paris, a research center at the forefront against infectious disease, and published on biorxiv.org on April 24.
The researchers sequenced 97 genomes from samples collected among infected cases in France between January 24 to March 24, and found that the dominant strain of the outbreak in the country was linked to a genetic group, or clade G, that was not from China or Italy.
"Unlike what is observed for many other European countries, the French outbreak has been mainly seeded by one or several variants of this clade," the study suggested, adding that more thorough sampling will be needed.
Meanwhile, the study indicated that early imported cases in France didn't lead to local transmission, highlighting the efficacy of the measures that France has taken to prevent virus spread.
The country started its specific surveillance of COVID-19 on January 10, and identified the first three cases in Europe on January 24, which were directly imported from Hubei, China. The government moved quickly to track the close contacts of the patients and prevented further spread of the virus.
These early introductions "do not appear to have resulted in local transmission," the study showed. "The quarantine imposed on the initial COVID-19 cases in France appears to have prevented local transmission."
"In parallel, our genomic data reveals the later predominant circulation of a major clade in many French regions, and implies local circulation of the virus in undocumented infections prior to the wave of COVID-19 cases," it added.
One of the earliest representatives of the French clade was sampled on February 19 from a patient who had no travel history and no contact with travelers returning from overseas. The patient passed away on February 25 and then came a wave of outbreaks in France.
"As the earliest representative of clade G had no history of travel or contact with returning travelers, we can infer that the virus was silently circulating in France in February, a scenario compatible with the large proportion of mild or asymptomatic diseases, and observations in other European countries."