Australia urged to tackle issues hampering ties
chinadaily.com.cn
1605710570000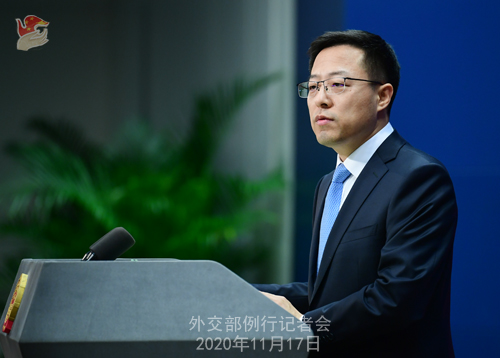 China urged Australia on Tuesday to face up to the issues at the heart of the setback in bilateral relations, saying that the responsibility for the current situation does not lie with China.
"The root cause of China-Australia relations worsening to the current level of difficulty is that some people in Australia regard China's development as a threat and have taken a series of wrong moves based on a Cold War mentality and ideological prejudice," Foreign Ministry spokesman Zhao Lijian said at a regular news briefing in Beijing.
According to Zhao, Australia has repeatedly made mistakes on issues involving Hong Kong, Xinjiang, Taiwan and other issues related to China's core interests, and has "grossly interfered in China's internal affairs and seriously hurt the feelings of the Chinese people".
Moreover, some people in Australia slandered and accused China of engaging in so-called intervention and infiltration activities in the country without giving any evidence, Zhao said, adding that Australia even sought to politicize, stigmatize and create barriers for normal exchanges and cooperation between the two countries.
"These practices have seriously damaged mutual trust, poisoned the atmosphere of bilateral relations and impeded the momentum of bilateral cooperation," he said.
The spokesman said Australia has also engaged in political manipulation of the COVID-19 situation and interfered in international anti-epidemic cooperation by promoting a so-called independent investigation.
Australia should seriously think about taking a rational and impartial stance in dealing with its relations with China, as many people in Australia are calling for, rather than accusing China and avoiding its own responsibilities, Zhao said.
Zhao said that it is normal for China and Australia, countries with different historical traditions, social systems and at different development stages, to have differences, but what's important is to properly manage those differences in a constructive manner rather than impose one's own ideas on others based on the pretext of safeguarding national interests and values.
"We hope the Australian side will look at China and China's development objectively ... and do more to enhance mutual trust and promote cooperation rather than go down the wrong path," Zhao said.