Germany reports 342 more COVID-19 cases to 174,697
People's Daily
1589805185000
BERLIN, May 18 (Xinhua) -- New infections with COVID-19 in Germany remained under last week's average as the number of confirmed cases increased by 342 within one day to 174,697, the Robert Koch Institute (RKI) announced on Monday.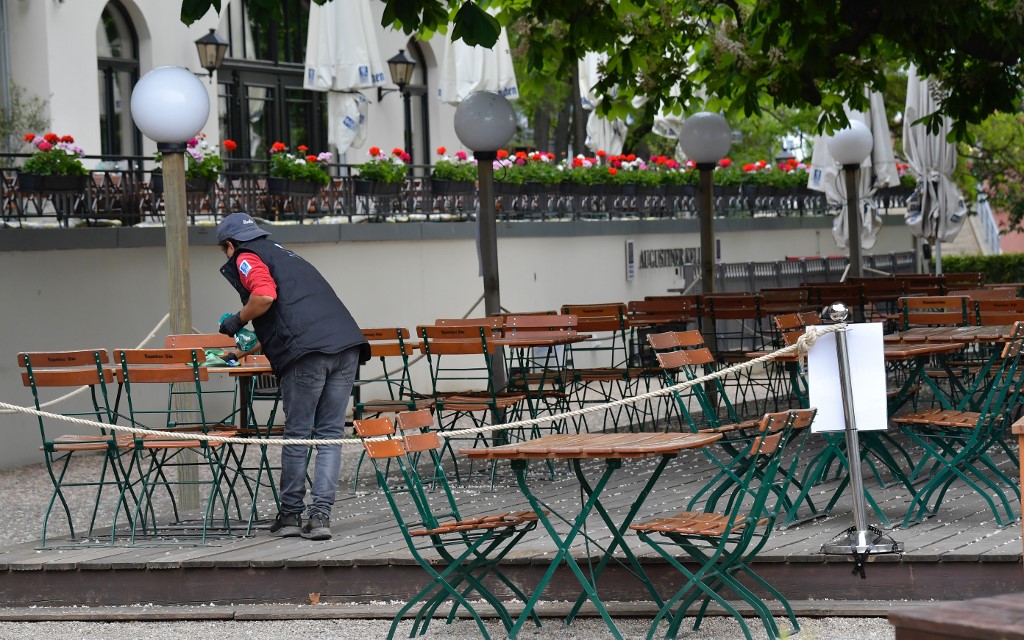 A man cleans tables at a beergarden in Berlin on May 18, 2020, as restrictions were eased amid the novel coronavirus / COVID-19 pandemic. (Photo: AFP)
Over the course of last week, an average of 734 daily cases had been reported by the RKI, the federal government agency for disease control and prevention.
According to the RKI, the number of deaths from the new coronavirus in Germany increased by 21 to 7,935 on Monday, resulting in a fatality rate of confirmed COVID-19 cases in Germany of 4.5 percent.
The estimated number of people in Germany who had already recovered from COVID-19 increased by around 1,100 within one day to 154,600 on Monday, according to the RKI.
The four-day average reproduction rate of COVID-19 in Germany increased to 0.94, according to the daily situation report by the RKI for Sunday.
However, the reproduction rate in Germany would be "sensitive" to short-term changes in case numbers, as may be caused by individual outbreaks, which could lead to "large fluctuations," the daily situation report noted.
Therefore, the RKI was also providing a "more stable" seven-day reproduction rate which was less subject to daily fluctuations. The seven-day rate remained stable and stood at 0.87 on Sunday. The RKI stressed that both reproduction rates would only reflect the course of infection about one to two weeks ago.
The RKI and Chancellor Angela Merkel have repeatedly stated that restrictions could only be eased if the reproduction rate in Germany was well below one.
On Monday, Germany's Foreign Minister Heiko Maas is scheduled to discuss a gradual easing of travel restrictions and the possibility of summer holidays abroad with his colleagues from popular German holiday destinations such as Spain, Greece and Italy.
At the moment, the development of the number of confirmed cases was a "positive" one and a "foundation" had been created to talk about how to downgrade the worldwide travel warning, which is currently valid in Germany, into a "travel advisory," Maas told the German broadcaster ZDF Monday.