Trump walks back perceived concession to Biden on Twitter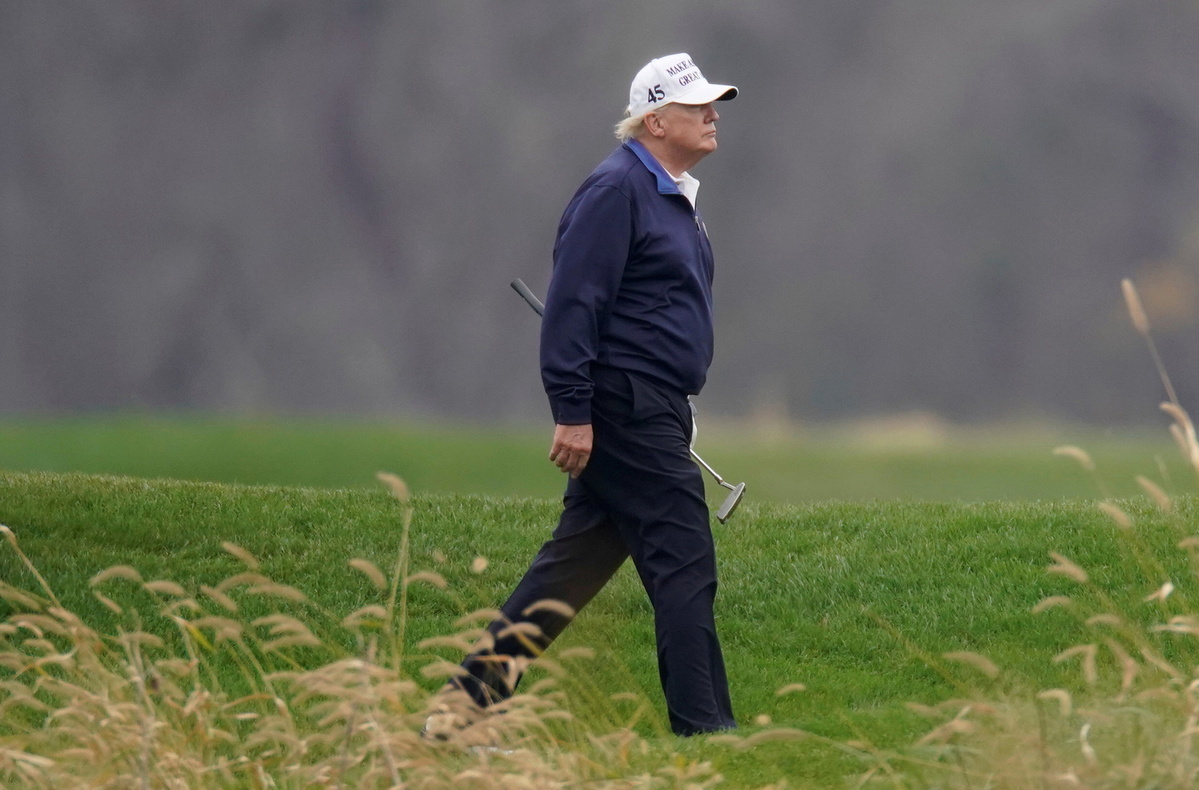 What some media portrayed as an acknowledgment that Joe Biden won the election, President Donald Trump quickly dispelled Sunday by tweeting that he has conceded "nothing".
"He only won in the eyes of the FAKE NEWS MEDIA. I concede NOTHING! We have a long way to go. This was a RIGGED ELECTION!"
Trump had tweeted about an hour earlier that, "He won because the Election was rigged!"
Trump has challenged the results in several states with litigation, which so far has not yielded much that could change the outcome.
Patrick Moore, a Biden campaign legal adviser, said that in Georgia, where a hand recount of votes is being conducted, that the vote total so far has changed "almost imperceptibly".
"Donald Trump's Twitter feed doesn't make Joe Biden president or not president. The American people did that," Ron Klain, Biden's pick for White House chief of staff, told NBC's Meet the Presson Sunday.
Chinese Foreign Ministry spokesman Wang Wenbin on Friday extended congratulations to Biden and Vice-President-elect Kamala Harris, saying China respected the choice of the American people. Wang told a regular press briefing that China understands the presidential election result will be determined following US laws and procedures.
US Senator Bernie Sanders of Vermont, who had sought the Democratic nomination himself, told CNN: "I would just hope to God he (Trump) has the decency in him to man up and say, 'You know what? We fought hard, we lost the election, good luck to Joe Biden.'"
On Sunday, former national security adviser John Bolton called on Republican leaders to recognize Biden as president-elect.
"I think this is a character test for the Republican Party," Bolton said on ABC's This Week. "I don't expect him to go graciously. I do expect him to go."
"John Bolton was one of the dumbest people in government that I've had the 'pleasure' to work with," Trump tweeted in response Sunday. "A sullen, dull and quiet guy, he added nothing to National Security except, 'Gee, let's go to war.' Also, illegally released much Classified Information. A real dope!"
On Saturday, thousands of Trump supporters, in what some billed as a "Million MAGA March", flocked to Washington DC, where they were involved in sporadic clashes with counterprotesters and antifascist groups. Some Trump supporters chanted, "Stop the steal" and, "Four more years."
Multiple confrontations broke out later in the day as small groups of Trump supporters attempted to enter the area around Black Lives Matter Plaza, about a block from the White House, where several hundred anti-Trump demonstrators had gathered.
Trump supporters who approached the area were harassed, doused with water and saw their MAGA hats and pro-Trump flags snatched and burned. As night fell, multiple police lines kept the two sides apart.
Police said they made 21 arrests on charges including assault and weapons possession and recovered eight firearms. Four officers were hurt, and no arrest had been made in a stabbing.
Videos posted to social media showed clashes between the right-wing Proud Boys group and left-wing protesters, with participants who found themselves isolated subjected to shoves and punches.
"On stark display in the nation's capital were two irreconcilable versions of America, each refusing to accept what the other considered to be undeniable fact," was how The Washington Post described the scene. "Activists spewed profanity and shouted threats, threw punches and launched bottles. On both sides, people were bloodied."
Trump, who greeted supporters in the capital while riding in a motorcade earlier on Saturday, took to Twitter around midnight to denounce counterprotesters at the rally.
"Antifa waited until tonight, when 99% were gone, to attack innocent #MAGA People. DC Police, get going — do your job and don't hold back!!!" he tweeted.
"The media's near total silence about the physical violence being perpetrated against conservatives is shameful & dangerous," Trump's daughter Ivanka tweeted.
"The physical assaults today by violent leftists targeting his supporters is abhorrent," US Congressman Lee Zeldin of New York tweeted. "The near total media blackout of the violence is terrible…& telling."
On Sunday, New York Governor Andrew Cuomo continued his feud with Trump over the distribution of a coronavirus vaccine.
"I tell you today, if the Trump administration does not change this plan and does not provide an equitable vaccine process we will enforce our legal rights, we will bring legal action to protect New Yorkers … and we will fight to make sure every life is protected equally, because enough people have died and enough injustice has been done during COVID," the Democratic governor said in an address at Riverside Church in Manhattan. "It stops now, it stops with this vaccine."
Cuomo had earlier said that New York would want to test the safety of the vaccine itself and had expressed concern that it was rushed for political purposes.
"The federal government's response to COVID and the White House's dispute with the FDA raises serious questions about whether or not the vaccine has become politicized," Cuomo said on Sept 24. "Frankly, I'm not going to trust the federal government's opinion and I wouldn't recommend (the vaccine) to New Yorkers based on the federal government's opinion.
"We're going to put together our own review committee headed by the Department of Health to review the vaccine, and I'm appointing a committee that is going to come up with a vaccine distribution and implementation plan on how we will do it," Cuomo said.
At the White House on Friday, Trump said: "Governor Cuomo will have to let us know when he's ready for it (the vaccine), otherwise we can't be delivering it to a state that won't be giving it to its people, immediately. And I know the people in New York very well. I know they want it. So the governor will let us know when he's ready.
"I hope he doesn't handle this as badly as he's handled the nursing homes, Trump said. "But we're ready to provide it as soon as they let us know that they'll actually use it."