The latest: COVID-19 outbreak worldwide (Updated March 16)
People's Daily app
1584355446000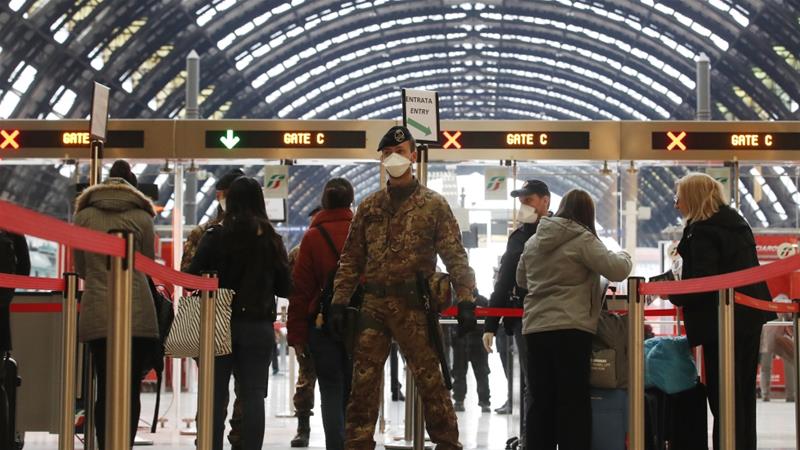 (Photo: AP)
National authorities around the world reported 10,982 new coronavirus cases and 343 new deaths on Sunday, according to statistics in the daily situation report by the The World Health Organization (WHO).
The WHO said the global number of reported cases of COVID-19 rose to 153,517 by 10 am Sunday (CET), with 72,469 outside China.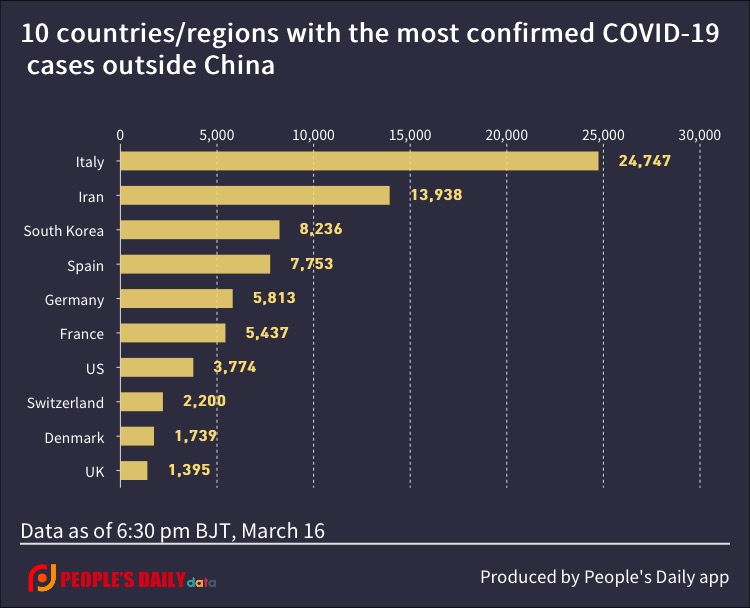 Data sources: WHO, JHU, People's Daily, Xinhua, and AFP
Current status (data as of 6:30 pm BJT, March 16):
Italy on Sunday recorded 368 new deaths from the novel coronavirus, its highest one-day increase to date, taking the total to 1,809, the most outside China, official data showed. The number of infections has reached 24,747, a count released to the media by Italy's civil protection service.
Iran reported 1,209 new confirmed cases of COVID-19 infections, raising the total number of confirmed infections to 13,938.
South Korea reported 74 new coronavirus cases on Sunday, taking the country's total infections to 8,236, with the number of deaths at 74.
The number of people infected with the coronavirus in Spain increased by a third to 7,753 and more than 100 new deaths were recorded over the last 24 hours, health officials said Sunday.
France recorded 29 additional coronavirus deaths Sunday, the biggest one-day increase in the country since the outbreak, bringing the total death toll to 120, Health Minister Olivier Veran said. Around 900 more infections were recorded in the past 24 hours, taking the total to 5,423 since January, Veran told France 2 television.
Germany reported 4,838 cases of coronavirus infections and 12 deaths as of Sunday.
The US reported 3,244 cases of coronavirus infections and 62 deaths as of Sunday.