US to 'fully' develop ground-launched missiles after exiting INF treaty: Pentagon chief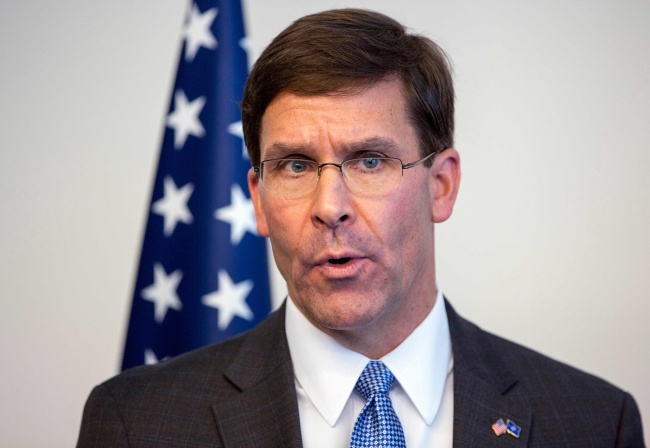 US Secretary of Defense Mark Esper. (Photo: VCG)
The United States will fully develop ground-launched conventional missiles after withdrawing from the Intermediate-Range Nuclear Forces (INF) Treaty, US Secretary of Defense Mark Esper said Friday.
"Now that we have withdrawn, the Department of Defense will fully pursue the development of these ground-launched conventional missiles," Esper said, pointing to the move as a "prudent response to Russia's actions."
According to the statement, the United States already began research and development activities for the ground-launched missiles in 2017. The department's initial research and development efforts focused on mobile, conventional, ground-launched cruise and ballistic missile systems.
To comply with the obligations of the INF treaty, these programs are in the early stages, the statement claimed.
Esper released the statement on the same day the United States officially withdrew from the treaty.
Multiple US media reported that the United States is planning to test a new non-nuclear mobile-launched cruise missile in the coming weeks as a show of force against Moscow.
The collapse of the INF treaty as well as confrontational actions have already triggered fear among analysts that a new round of arms race is looming.
"Most pressing and troublesome over the medium term will be the total loss of transparency and predictability," Ulrich Kuehn, an arms control expert at the Carnegie Endowment for International Peace, said, "this combination of 'strategic blindness' and mistrust combined with the potential for misunderstandings will fuel the new arms race."
UN Secretary-General Antonio Guterres on Thursday urged the United States and Russia to urgently seek agreement on "a new common path" for international arms control.
"When it expires tomorrow, the world will lose an invaluable brake on nuclear war. This will likely heighten, not reduce, the threat posed by ballistic missiles," he said.
The INF Treaty was signed by the Soviet Union and the United States bain 1987.
Moscow and Washington have been accusing each other of violating the historic arms control deal amid increased tensions.
US Secretary of State Pompeo said on Feb. 1 that the United States would suspend compliance with the landmark bilateral arms control pact with Russia and formally withdraw in six months if Moscow does not end its alleged violation of the pact.