Backgrounder: Previous impeachments against US presidents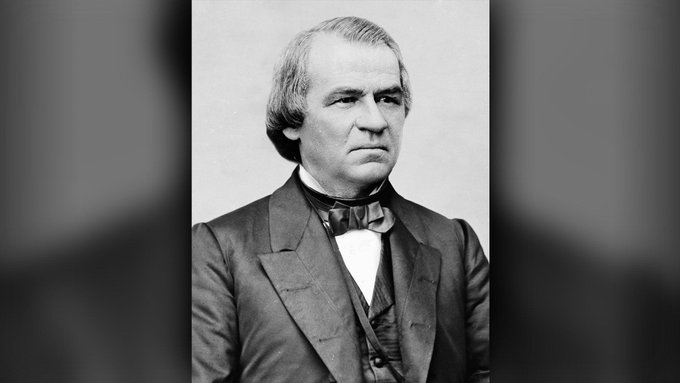 File photo of ANDREW JOHNSON
WASHINGTON, Dec. 18 (Xinhua) -- The following is a backgrounder of previous impeachment proceedings by Congress against U.S. presidents, as Donald Trump is poised to become the third president in the U.S. history impeached by the House of Representatives and to face trial in the Senate.
ANDREW JOHNSON
Andrew Johnson, the 17th president of the United States and the first to be impeached, took the presidency on April 15, 1865, after President Abraham Lincoln was assassinated.
Johnson mirrored Lincoln's views on a benevolent period of reconciliation with the South after the Civil War. However, there was a strong faction within Johnson's inherited cabinet and the Northern states that favored a harsh policy for the rebellious states.
Johnson vetoed many of the harsh measures passed by Congress, but half of the vetoes were overturned by a majority vote.
Within his cabinet, Johnson faced the same factors that existed in Congress. Secretary of War Edwin Stanton was a member of the radical faction within the Republican Party, and had worked against Johnson's policies in favor of the more harsh Reconstruction plans favored by Congress.
In 1868, Johnson dismissed Stanton, but Stanton claimed that Johnson acted in violation of the Tenure of Office Act enacted in 1867, which stated the president may not dismiss certain publicly-elected officers without the consent of the Senate.
Stanton barricaded himself in his office, and the radical elements in Congress voted to impeach Johnson.
Eleven charges were brought against Johnson, primarily dealing with violations of the Tenure of Office Act. Only three of these charges were voted upon, with each failing by one vote to reach the two-thirds majority required for impeachment.
Upon Johnson's acquittal, Stanton resigned. Johnson completed the remainder of Abraham Lincoln's term of office but failed to receive his party's nomination in 1869.
RICHARD NIXON
Richard Nixon, the 37th president of the United States and the second to face impeachment proceedings, was the first U.S. president to resign.
On July 17, 1972, five men were arrested at the Watergate complex after burgling the offices of the Democratic National Committee. Charges were also laid against G. Gordon Liddy and E. Howard Hunt, former White House aides.
In February 1973, the Senate voted unanimously to establish a Select Committee on Presidential Campaign Activities.
Senate hearings continued until May. Alexander Butterfield, former deputy assistant of Nixon, disclosed the existence of the White House tapes, and a protracted legal battle began.
On Aug. 15, Nixon delivered an address to the nation on Watergate. He claimed "executive privilege" for the tapes, arguing that he should not have to hand them over.
On Oct. 12, Nixon nominated Gerald Ford as vice president, following the resignation of former Vice President Spiro Agnew on bribery and tax evasion charges. Nixon's tax returns also came under investigation.
In late October, under immense pressure, Nixon released some of the tapes. One tape was found to have an 18-and-a-half-minute gap. Electronics experts reported that the gap was the result of at least five separate erasures.
In early 1974, there were calls for Nixon to resign, and Congress began seriously considering impeachment.
On April 30, Nixon released more edited transcripts of tapes.
In July, the Supreme Court ordered Nixon to release more tapes that were potential evidence in criminal trials of his former subordinates. While the president dragged his feet, the House of Representatives Judiciary Committee voted to recommend Nixon be impeached on three charges, including obstruction of justice.
On Aug. 5, Nixon released more tapes that proved he ordered a cover-up of the Watergate burglary. It was clear that Nixon would be impeached and convicted by the Senate.
On Aug. 9, Nixon resigned before the full House would vote on the articles of impeachment against him.
In September, President Gerald Ford granted Nixon a "full, free and absolute pardon."
BILL CLINTON
Bill Clinton, the 42nd president of the United States and the third to face impeachment proceedings, was the second U.S. president to be impeached.
In January 1998, the extra-marital relationship Clinton had with Monica Lewinsky, a former White House intern, was widely reported in news media. Clinton denied allegations of a sexual relationship and of suborning perjury.
On Aug. 17, Clinton testified before a grand jury. Later he publicly acknowledged an improper relationship with Lewinsky.
On Sept. 9, the Office of Independent Counsel submitted a referral to Congress, accusing Clinton of perjury and obstruction of justice in the Lewinsky affair.
On Nov. 19, the House Judiciary Committee began impeachment hearings against Clinton.
On Dec. 11, Clinton apologized to the country for his conduct with Lewinsky and said he would accept a congressional censure or rebuke.
On Dec. 19, the House of Representatives cast votes and approved two of the four articles of impeachment, formally recommending that Clinton be tried in the Senate for committing perjury before a federal grand jury and obstructing justice.
In January 1999, a trial in the Senate began, with Chief Justice William Rehnquist presiding.
On Feb. 12, Clinton was acquitted on both counts, as neither received the necessary two-thirds majority vote of the senators present for conviction and removal from office.
Clinton remained in office for the remainder of his second term.