US agrees to return 12 military sites to S.Korea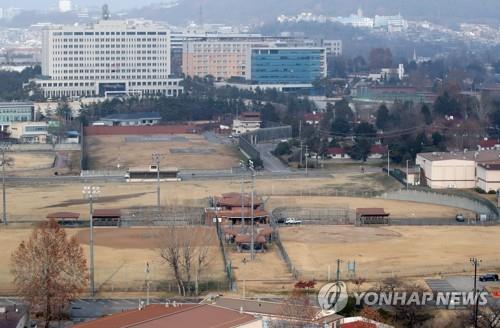 SEOUL, Dec. 11 (Xinhua) -- The United States agreed to return 12 military sites here to South Korea on Friday, according to South Korea's foreign ministry.
A virtual joint committee session of the Status of Forces Agreement (SOFA) was held earlier in the day, agreeing on the return of 12 U.S. military sites, including six in central Seoul, to South Korea. SOFA governs the legal status of about 28,500 U.S. soldiers stationed here.
The agreement was reached on condition that Seoul and Washington will continue discussions on responsibility for decontamination of the U.S. military bases, ways to strengthen environmental management of installations currently under the U.S. Forces Korea (USFK) control and the revision of SOFA documents proposed by South Korea.
Among six U.S. military bases in Seoul to be returned to South Korea are two plots inside the Yongsan Garrison, and Camp Kim and Niblo Barracks both in Yongsan district.
It marked the first time that the Yongsan complex sites, or the former U.S. military headquarters, were placed under the control of South Korea. The country plans to develop the sites as national parks.
Other military sites to be returned include Camp Walker heliport in the southeastern city of Daegu, Camp Jackson and part of Camp Mobile in Uijeongbu and Dongducheon each in Gyeonggi province as well as Commander Naval Forces Korea (CNFK) Detachment in the southern port city of Pohang and part of Pilsung Air Range in the eastern city of Taebaek.