Indian railways provide free WiFi at 5500 stations across country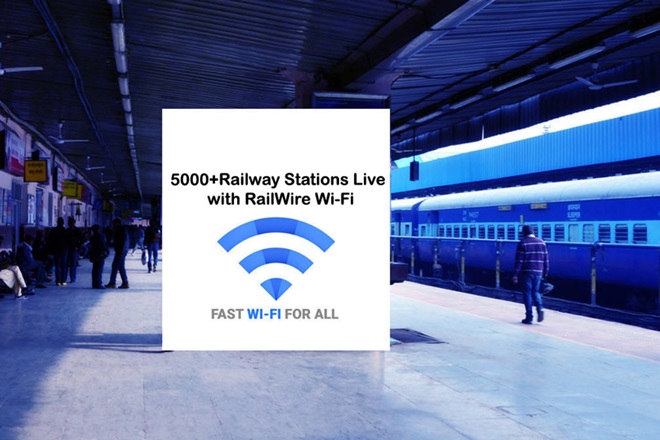 Indian Railways passengers and people at the stations who want to use free high-speed WiFi should have smartphones
NEW DELHI, Dec. 8 (Xinhua) -- India's federal railway ministry said it has provided free WiFi at 5500 railway stations across the country, officials said Sunday.
According to a statement issued by the ministry, the eastern state of Jharkhand's Mahuamilan station was the latest one to get the WiFi connectivity.
"Railways has successfully completed the work of providing free public Wi-Fi at 5500 stations across the country. Mahua Milan Railway Station of east-central railway zone became the 5500th station in the country to have free public Wi-Fi."
The railway ministry said their Wi-Fi network is one of the largest Wi-Fi networks of the world and described it as "a unique initiative".
According to railway officials to transform the railway stations into the hub of digital inclusion, the ministry mandated RailTel, a stated-owned company, to provide free high-speed Wi-Fi at the Railway stations. The company was formed in 2000 with the objective of creating nationwide broadband, telecom and multimedia network, to modernise train control operation and safety system of Indian railways.
The Wi-Fi provided at the stations goes under the brand name of RailWire.
Indian railways began the service of providing free WiFi at its stations from January 2016 from Mumbai Central station, and in a span of 46 months, RailTel has extended the service to 5,500 stations across the country.
Officials said in October this year 15 million user logins were seen in RailWire Wi-Fi services across all stations consuming 10242 TB of data.
"Free access to high-speed Wi-Fi will help in bridging the digital divide between rural and urban India. Students using their waiting time to download study materials, vendors using the service for digital payment transactions, daily passengers using their time at stations learning a new skill or surfing net -- the free Wi-Fi has been a boon to these people who otherwise suffer from poor connectivity issues," the ministry statement said.
The Indian government in 2015 announced an investment of over 137 billion U.S. dollars over a period of five years to boost railways and modernise it on new lines.
India's sprawling railways are the world's third-largest network, ferrying around 23 million people each day.