Iraqi protesters storm US embassy in Baghdad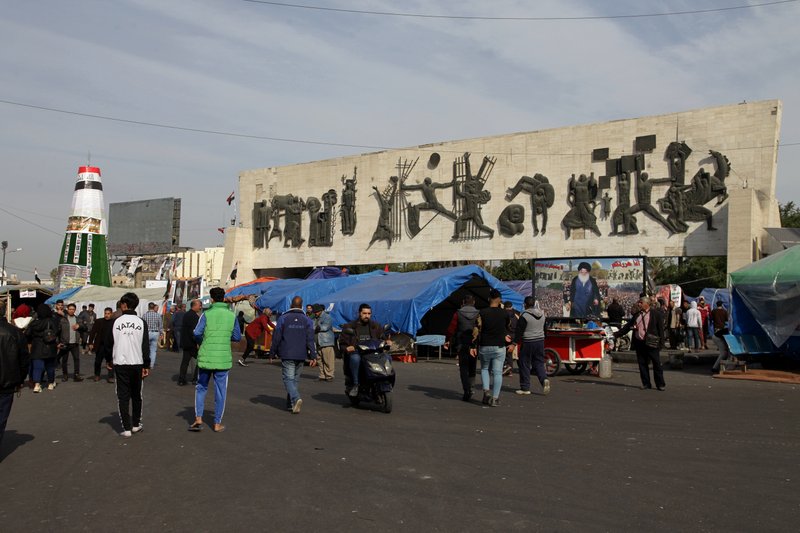 Protesters stage a sit-in at Tahrir Square during anti-government demonstrations in Baghdad, Iraq, Monday, Dec 30, 2019. (Photo: AP)
BAGHDAD, Dec. 31 (Xinhua) -- Hundreds of demonstrators, participating in mourning for the Hashd Shaabi members killed by U.S. attack in Iraq, stormed the U.S. embassy in Baghdad's Green Zone on Tuesday, a security official said.
The demonstrators entered the heavily fortified Green Zone and prepared tents to hold a sit-in protest in front of the U.S. embassy, an official from the Iraqi Interior Ministry told Xinhua on condition of anonymity.
The demonstrators wrote on the wall of the embassy "closed in the name of the people," and burned a guard tower on the outer fence of the embassy, as they were trying to enter the outer yards, the source said.
Later on, many of the protesters managed to storm one of the gates and broke into the outer yards of the embassy, sparking a clash with the guards who fired tear gas canisters against the demonstrators, the source said.
Local media aired photos showing Qais al-Khazali, head of Asa'ib Ahl al-Haq militia, and top Hashd Shaabi leader Hadi Al Amri and Abu Mahdi al-Muhandis participating in the protest.
The protest came two days after the U.S. forces bombarded headquarters of Hashd Shaabi's 45th and 46th Brigades, leaving 25 killed and 51 injured.
A U.S. military statement said that U.S. forces attacked on Sunday evening five bases of Kata'ib Hezbollah (KH) in Iraq and Syria in response to repeated attacks by KH against U.S.-led coalition forces in Iraq.