French gov't temporarily removes 'pivotal age' of 64 in pension reform bill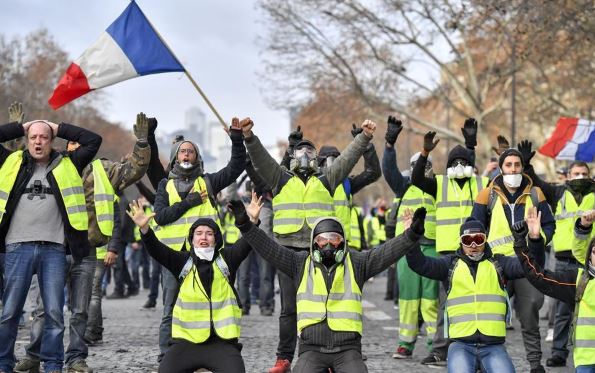 "Yellow Vests" protesters shout slogans near the Arch of Triumph in Paris, France, on Dec. 8, 2018. (File photo: Xinhua)
PARIS, Jan. 11 (Xinhua) -- The French government announced on Saturday that it temporarily removes from its pension reform bill the contested "pivot age" of 64 for full pension, two years longer than in current system, which has been the main source of tension during weeks of union-led strikes.
"To demonstrate my confidence in the social partners, and not to prejudge the outcome of their work concerning the measures to be taken to achieve balance in 2027, I am prepared to withdraw from the [pension reform] bill the short-term measure which I had proposed, which consists of gradually converging from 2022 towards an age of equilibrium of 64 in 2027," wrote Prime Minister Edouard Philippe in a letter addressed to union leaders.
However, the government maintains the principle of an age of equilibrium, the prime minister added.
There would be a conference, as demanded by unions, to study ways of financing the pension system, which must come up with proposals by the end of April, said the letter.
The government had previously announced that it would present the pension reform bill to the National Assembly by February and the bill can still be redrafted later.
If an agreement is reached within the conference by April, the parliament will take it into account and the government will take an ordinance transcribing this agreement into law, wrote Philippe in the letter.
In case of no agreement at the end of the conference, the government "will take necessary measures by order to reach equilibrium by 2027", he added.
"I want to be perfectly clear on this point: I will take my responsibilities."
France's biggest union CFDT welcomed the withdrawal, saying it "marks the government's willingness to compromise".
"We will continue the discussions within the framework proposed to answer the questions which remain on the future universal regime," it said in a statement .
The French government's move was seen as a concession aiming at ending five weeks of nation-wide strikes against its plan to bring the country's 42 existing pension schemes into a single, point-based system.
The reform plan maintains the legal retirement age of 62, but asks people to work till a "pivotal age" of 64 to be qualified for full pension.
Supporters say the pension overhaul aims to restore social justice and plug a pension deficit due to stand between 7.9 billion euros ($8.75 billion) and 17.2 billion euros by 2025 if nothing was done.
Critics fear citizens will have to work longer while ultimately earning lower pensions.