Chinese pop singer cuts ties with Intel, as firm feels wrath over its Xinjiang boycott
Global Times
1640239311000
US chipmaker Intel may have just started to feel the wrath of the Chinese market over its high-profile boycott of products from Northwest China's Xinjiang Uygur Autonomous Region, citing "forced labor" claims, as its Chinese brand ambassador announced on Wednesday plans to terminate cooperation with the US chipmaker, and similar actions could be taken by its Chinese partners, given the rapidly growing anger toward the US firm's arrogant and vicious move.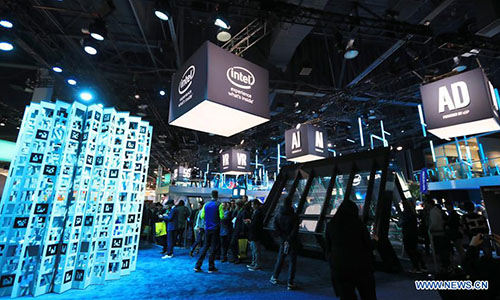 While no official moves have been announced yet, the severing of ties serves as a fresh warning siren to Intel and other foreign companies that seek to undermine China's core interests, while also trying to profit from the vast Chinese market, analysts noted, calling for a greater push for indigenous sci-tech innovation to fend off any provocative activities against the Chinese government and people.
In a late-night statement on its Weibo official account, the studio of pop singer Wang Junkai, the brand ambassador for Intel Core, announced Wang's termination of all partnerships with Intel, effective immediately.
Intel has found itself in hot water over a policy letter requiring its suppliers not to source goods or services or employ labor from Northwest China's Xinjiang Uygur Autonomous Region, citing fabricated claims of "forced labor" in the region.
Intel's stance on Xinjiang has quickly gone viral on Chinese social media, with many web users infuriated by its unfounded allegations. China has on many occasions reiterated that the alleged forced labor accusations are groundless.
Intel didn't reply to a request for comment by press time.
The burgeoning anger has the country's internet population figuring out ways to rectify wrongdoings, with Wang, the brand ambassador for Intel Core - the chipmaker's premium CPU series for PCs and laptops - in late May under pressure to "unfriend" Intel.
As of Wednesday night, Wang had 81.17 million fans on his Weibo official account. In a sign of Wang's influence, especially among the younger generation, he was designated as the UN Environment Goodwill Ambassador in Beijing in April 2018.
"Young celebrities like Wang should become role models for Chinese young people, so he should cut ties with Intel," a fan of Wang living in Wuhan, Central China's Hubei Province, told the Global Times on Wednesday. "All celebrities should stand with the national interest first."
The anger among Wang's fans seems to have fed through to the pop singer, prompting the late-night declaration.
Some of the US firm's Chinese partners are also being urged to crystallize their stance on the issue.
Questions sent to PC giant Lenovo, a key Chinese partner for Intel that has been urged by Chinese netizens not to side with the chipmaker, went unanswered as of press time. Lenovo has been heckled by netizens about its attitude toward the issue.
Lenovo had a market share of 23.7 percent of global PC shipments in the third quarter of the year. Together with US-based PC giants HP and Dell, Lenovo represents roughly two-thirds of global PC sales, according to data provider Statista.
Intel still has 75 percent of the global market for PC CPUs, media reports said.
"Globalization is much deeper than we think. Intel's products are directly and indirectly linked to China to a level of more than 80 percent. It would be difficult for a Chinese company to split up with Intel immediately, but it would be more difficult for Intel to lose China market," a manager from an information technology company based in East China's Jiangsu Province told the Global Times.
China has the soundest industrial system in the world, and Intel is more dependent on China's huge market, he noted.
From 2016 to 2020, China was the biggest market for Intel as measured by revenues, per Statista.
"As a Chinese, I'm furious about and opposed to any political maneuver that refuses to use Xinjiang-based products," Xiang Ligang, director-general of the Beijing-based Information Consumption Alliance, told the Global Times on Wednesday.
The policy letter is issued per annum to its suppliers and the addition of Xinjiang-related clauses this year is indicative of the US government's anti-China strategy, according to Xiang, reckoning that Xinjiang-origin products are originally not a tangible part of Intel's supply chain.
As Xiang pointed out, "the US' strategic crackdown on China and the arrogance at some US firms" need to be addressed, and it's time to develop alternative domestic products.
Speaking at a semiconductor forum in Wuxi, East China's Jiangsu Province on Wednesday, Wei Shaojun, general director of the integrated circuit design branch of the China Semiconductor Industry Association, said that after multiple years of effort, China has become home to one of the world's most complete chip supply chains.
The country has strong competiveness in low- to medium-end chips and it's emerging from its reliance on overseas products in higher-end chips.
But insufficient R&D spending impedes an uplift in corporate innovation, Wei said, urging more R&D commitments to climb up the innovation ladder.