Trump supporters on Twitter spread coronavirus conspiracy about China: research
People's Daily
1591531113000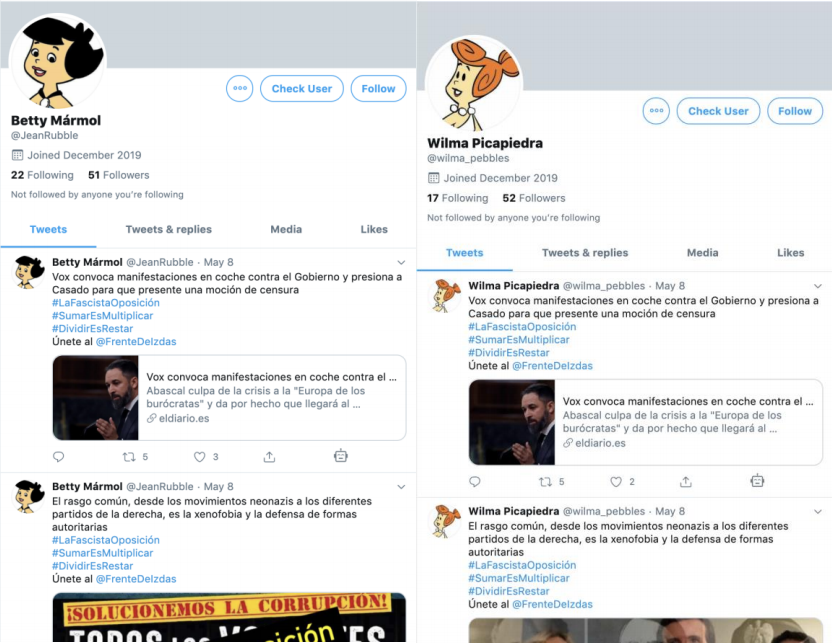 Screenshots show the Twitter accounts refered by the report as "Spanish bots with Flintstones imagery as light-hearted cover for disinformation." (Photos: The Australia Institute)
There is a close connection between the disinformation campaigns initiated on Twitter during the coronavirus pandemic and pro-Trump and QAnon affiliations, according to a study conducted by the Australia Institute, an independent public policy think tank based in Canberra.
The report, "Like a virus: The coordinated spread of coronavirus disinformation," found that about 30 clusters of Twitter accounts, which are affiliated with supporters of U.S. President Donald Trump, the Republican Party or the conspiracy theory QAnon, spread rumors that the coronavirus was a bioweapon created in China.
QAnon is a far-right conspiracy theory detailing an alleged plot by the "deep state" against Trump and his supporters.
Rumors about various governments created the coronavirus as part of military experiments first started on social media in early February, which has been debunked by the World Health Organization and multiple fact-checking groups. The U.S. intelligence and health officials have likewise rejected the idea that the pathogen was man-made or genetically modified.
As of late March, the Australian researchers monitored that the conspiracy theory labeling the coronavirus Chinese bioweapon had been shared on Twitter within certain clusters for almost 900 times. Those online messages were then retweeted 18,500 times, collectively garnering as many as five million views of the rumor across Twitter.
These allegations later entered the rhetoric of the White House. Both President Trump and Secretary of State Mike Pompeo repeatedly claimed in public that COVID-19 may have come from a research lab in Wuhan, China. But neither of them provided any evidence to support the allegation.
"Whether they made a mistake or whether it started off as a mistake, and then they made another one or — did somebody do something on purpose?" Trump said during a White House appearance on April 30.
This shows the routes of how "the problematic content sets a foundation" and then takes off by being "amplified by the mainstream media and celebrities," said Timothy Graham, co-author of the report who is a senior lecturer at Queensland University of Technology, in an interview.
Rod Campbell, research director of the Australia Institute and another co-author of the research added that the finding "shows how a conspiracy theory can quickly go from obscurity to the Rose Garden."
"The million dollar question is what impact will this activity have," said Graham.
"Whether the coordinated inauthentic behaviors we have observed for the bioweapon conspiracy are orchestrated by the hard core of participants in these groups themselves, or are designed by external operators to target and exploit the worldviews of such groups, the net effect is often the same: the themes and topics promoted by coordinated inauthentic activity are taken up by the wider fringe community, and thereby gain amplification and authenticity," the researchers said in the report.