Imported cases face tougher measures
As an increasing number of inbound travelers to China have been confirmed to be infected with CO­VID-19, many regions on the Chinese mainland are taking tough measures to avert a secondary spread of the virus from imported cases.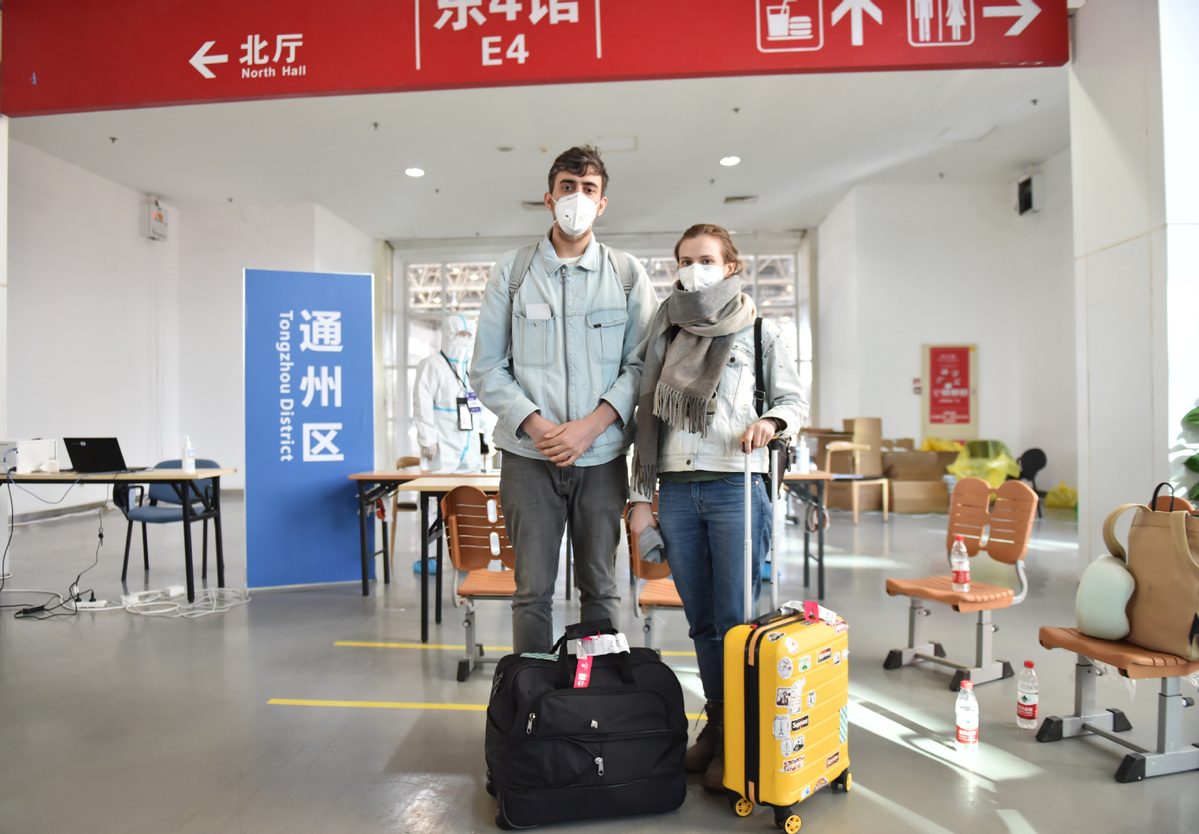 Two Russian passengers at a designated site for transfer of inbound travelers to be put under quarantine near the Beijing Capital International Airport in Beijing, March 14, 2020. (Photo: Xinhua)
The mainland reported 20 new confirmed cases on Saturday, with 16 of them from abroad, according to the National Health Commission. Imported cases totaled 111 as of Saturday since first appearing last month.
A majority were from Italy and Iran, with major destinations including Zhejiang province, Beijing and Shanghai, according to a Beijing News report. As of Saturday, Beijing reported 27 imported cases.
Starting Monday, all passengers arriving at Beijing from overseas will be put on 14-day quarantine at designated facilities equipped with healthcare services, Chen Bei, deputy secretary-general of the Beijing municipal government, said at a news conference on Sunday.
Expenses incurred will be paid by travelers themselves, she added.
"Imported cases have become the majority of the city's newly confirmed cases," she said.
In the past three days, all the newly confirmed cases in Beijing were from overseas, according to the city's health commission.
Inbound travelers who were found to be infected or suspected of having COVID-19 during their trips to Beijing from overseas will bear their own medical costs if they are not covered by China's health insurance policies, Chen said on Saturday.
"If the traveler has difficulty in paying medical bills, the fees can be covered with medical aid according to relevant laws and regulations," she said.
Health insurance participants, however, do not pay out of their own pocket as the medical fees incurred are fully covered by the insurance plans and government subsidies, she added.
To date, more than 95 percent of Chinese citizens are covered by some public health insurance policies on the mainland, according to the National Healthcare Security Administration.
Starting from Friday, inbound flights to Daxing International Airport, the capital's new airport, will instead land at Beijing Capital International Airport to facilitate more coordinated management, said Zhao Ying, vice-general manager of Beijing Capital International Airport Co.
For strengthened containment, Beijing Capital International Airport has established a special zone for travelers from countries and regions hit hard by the virus.
The D-zone, in Terminal 3, will provide services such travelers need as well as the required procedures, including health examinations, identification checks and transfers.
"Overseas Chinese showing virus-related symptoms like fever should undergo treatment and self-quarantine at the places where they stay," said Pang Xinghuo, deputy director of Beijing Center for Diseases Prevention and Control, adding that they should avoid going out or on international journeys, which would put them at greater risk of infection.
Pang also advised residents of Beijing not to travel to countries or regions with outbreaks. "The disease has occurred in more than 100 countries and regions," Pang said.
In neighboring Hebei province, many cities demanded that inbound travelers from abroad report their health condition, recent travel history and any contact with possible COVID-19 patients.
"If inbound travelers deliberately conceal the related information or refuse to abide by epidemic prevention and control policies, they will bear all expenses for quarantine and treatment if infected with the virus," the Tangshan Prevention and Control Work Group Office said.
They will also bear legal responsibility if their concealment of information causes the spreading of the virus or related risks, the notice said. Qiaoxi district in Xingtai has also required inbound confirmed cases who concealed related information to pay the quarantine and treatment expenses of people who had close contact with them.
According to a report by Shanghai-based news portal ThePaper, 12 of the nation's 111 imported confirmed cases have been under investigation for violating laws, mostly for concealing information about the disease when coming into the country.
The 12 are now in Zhejiang and Henan provinces, as well as Beijing and the Ningxia Hui autonomous region.
Ningxia has started investigating a case involving a returnee from Iran who was confirmed infected with COVID-19 on Feb 26 after he came back to the region.
The security bureau in Zhongning county said on Saturday that the patient, surnamed Ding, was suspected of violating the country's laws on border health quarantine when he came back. Further investigation is underway, it said.