Engineering & Management courses becoming less popular among Indian students: survey
NEW DELHI, Nov. 26 (Xinhua) -- A latest survey report prepared by the National Statistical Office (NSO) has found that professional courses like 'Engineering', 'Information Technology (IT)' and 'Management' were losing steam among Indian students, and also that the cost of school education was rising at a faster rate than that of higher education.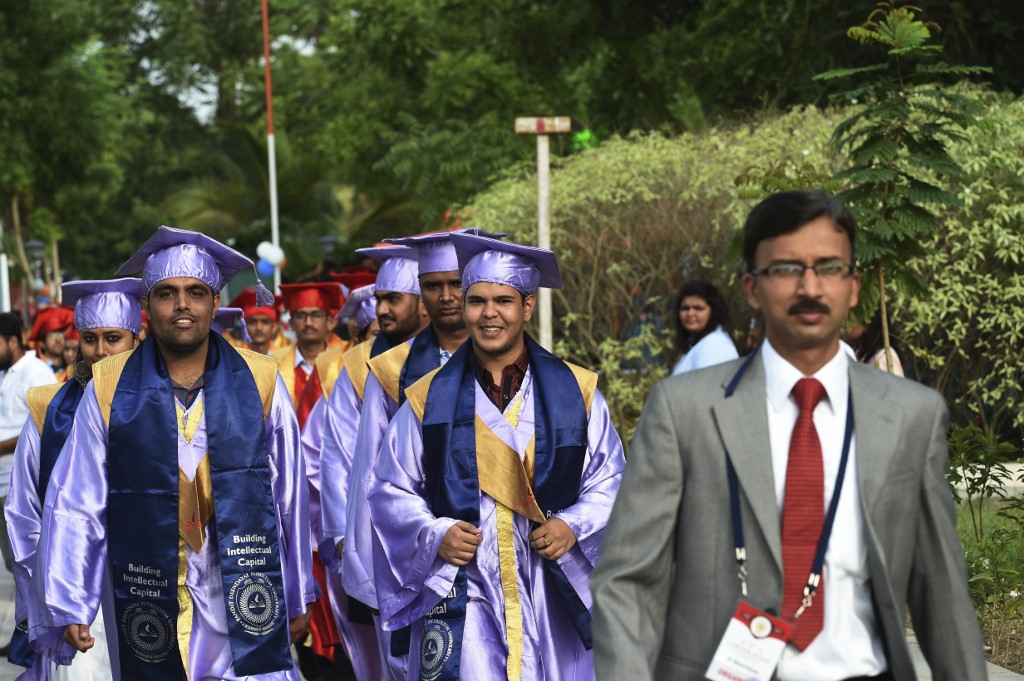 Students of the Pandit Dindayal Petroleum University (PDPU) arrive to attend the 7th Convocation Ceremony at the PDPU campus in Gandhinagar, some 30 kms. from Ahmedabad on August 29, 2019. (Photo: AFP)
In its report "Key Indicators of Household Social Consumption on Education in India" the NSO's report is based on a survey conducted between July 2017 and June 2018. Similar surveys were also conducted in 2014 and 2007-08. The data collected in both the reports were compared to present an idea about changes in the country's education sector over past one decade.
A part of the 'Ministry of Statistics and Programme Implementation', the NSO is responsible for conducting large scale sample surveys in diverse fields across the country.
The rising cost of school education indicated that private schools were tapping into the growing desire of parents of all economic classes to make early investments in their children's education, said the report.
Among the other findings of the survey were that pursuit of timely and uninterrupted education had increased in the country in the last decade, and that there was a faster rise in enrolment of both young men and women in educational institutions.
It also noticed a rise in the share of students enrolled in government institutions at all educational levels during the past ten years.
The age groups for various education levels under consideration were - 6-10 years for primary education, 11-13 years for upper-primary, 14-15 years for secondary, 16-17 years for higher secondary and 18-23 years for post higher secondary.
It was also found that technical education choices had changed significantly during this period though.
The biggest drop was in the preference for Engineering and IT courses. Even the Management courses had become a less preferred option now, the survey report found and added that Medicine and Law courses had become more popular than they were four years ago.
Engineering and IT courses still attracted nearly half of the students opting for a technical/professional course in India.
A disappointing statistic in the NSO report was that while the share of men attending courses from Industrial Training Institutes (ITIs) or recognised vocational institutes had increased by 3.9 percentage points between 2014 and 2017-18, that of women had actually fallen marginally.