Japan issues arrest warrants for ex-US soldier, two others over Ghosn escape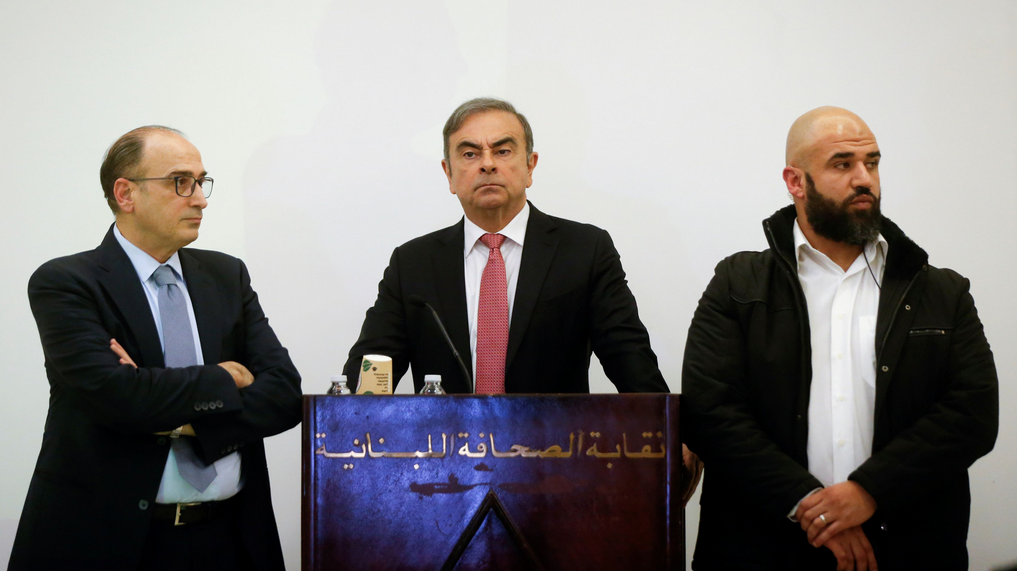 Former Nissan chairman Carlos Ghosn (C) attends a news conference at the Lebanese Press Syndicate in Beirut, Lebanon, January 8, 2020. (Photo: CGTN)
Japanese authorities on Thursday issued warrants for three men on suspicion of smuggling former Nissan Motor Co. Chairman Carlos Ghosn out of Japan in late December. Tokyo prosecutors also obtained a fresh arrest warrant against Ghosn for leaving Japan while on bail in violation of the country's immigration control law.
The three were named as Michael Taylor, a former member of the U.S. Army Special Forces known as Green Berets, George-Antoine Zayek and Peter Taylor. According to the Wall Street Journal, Zayek is a Lebanese-born U.S. citizen and had worked with the former U.S. soldier at times over more than a decade and also worked in private security with U.S. forces in Afghanistan and Iraq.
Kyodo News quoted a source close to the matter as saying that Ghosn met Taylor and Zayek at a hotel in Tokyo and took a bullet train to Osaka Prefecture before flying out of Kansai International Airport. He reportedly evaded airport security checks by hiding in a box prepared by the men and flew to Turkey and then to Lebanon. There was no record of Ghosn leaving Japan.
The prosecutors the same day searched the office of Ghosn's former lawyer, Junichiro Hironaka, who resigned on January 16 after Ghosn's surprise escape, and seized documents related to dates and names of the people the 65-year-old former auto tycoon had met during his release on bail.
Ghosn fled to Lebanon, his childhood home, at the end of last year, while he was awaiting trial on charges of financial misconduct and exploiting corporate resources for personal gain. Born to Lebanese parents living in Brazil, Ghosn moved to Lebanon when he was six. He is popular in the country and its people see him as "one of Lebanon's success stories abroad."
After arriving in Lebanon, Ghosn held a press conference and said he was escaping Japan's "rigged" justice system and said the alternative to fleeing would have been to spend the rest of his life languishing in Tokyo without a fair trial.