Northern Irish rejection threatens Brexit deal as EU leaders meet
Britain's efforts to agree an amicable divorce from the European Union were hanging by a thread Thursday as leaders headed to Brussels for a crunch summit.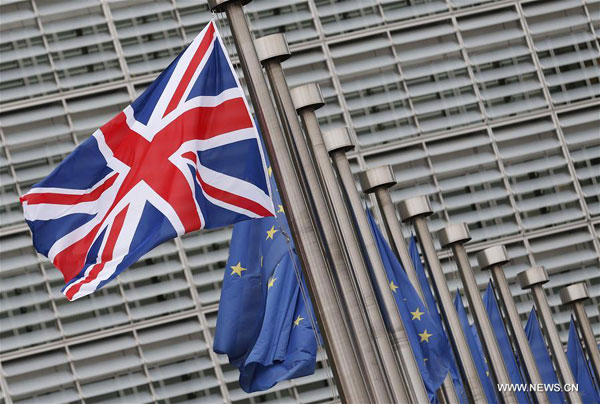 Photo taken on Jan 29, 2016 shows the UK and EU flags outside the European Commission headquarters in Brussels, Belgium. (Photo: Xinhua)
EU and UK negotiators had worked overnight on a compromise withdrawal deal that British Prime Minister Boris Johnson hoped to present to his counterparts.
But, as dawn broke over Brussels, Northern Ireland's Democratic Unionist Party dramatically rejected the accord, which would see the British-ruled province remain under EU customs and Value Added Tax (VAT) rules.
It was not immediately clear if this meant that Johnson would have to back away from the draft text, as his government is propped up by DUP support. But it greatly complicates his chances of getting it though the British parliament.
The pound, which had been buoyed earlier in the week by rumours of a deal, tumbled after the DUP statement.
"Will have to consider our options in the light of the situation," a senior EU official said. "Maybe we have a deal or maybe not."
EU leaders will be loath to approve another withdrawal agreement only to see it rejected in London, as happened with the last Brexit deal.
"Yesterday (Wednesday) we were willing to give more time to the negotiators, still today we don't know how things evolve," the EU official said. "So far member states have demonstrated incredible patience."
Before setting off for Brussels, Germany's Chancellor Angela Merkel noted that London had been ready to negotiate and put "concrete proposals on the table" but added the teams were "still not at the goal".
The DUP's patience, however, seems to have run out.
"As things stand, we could not support what is being suggested on customs and consent issues, and there is a lack of clarity on VAT," the party said.
"We will continue to work with the Government to try and get a sensible deal that works for Northern Ireland and protects the economic and constitutional integrity of the United Kingdom."