Pakistani PM embarks on 1st official visit to China since taking office, deepening iron-clad friendship and revitalizing flagship projects
Global Times
1667379065000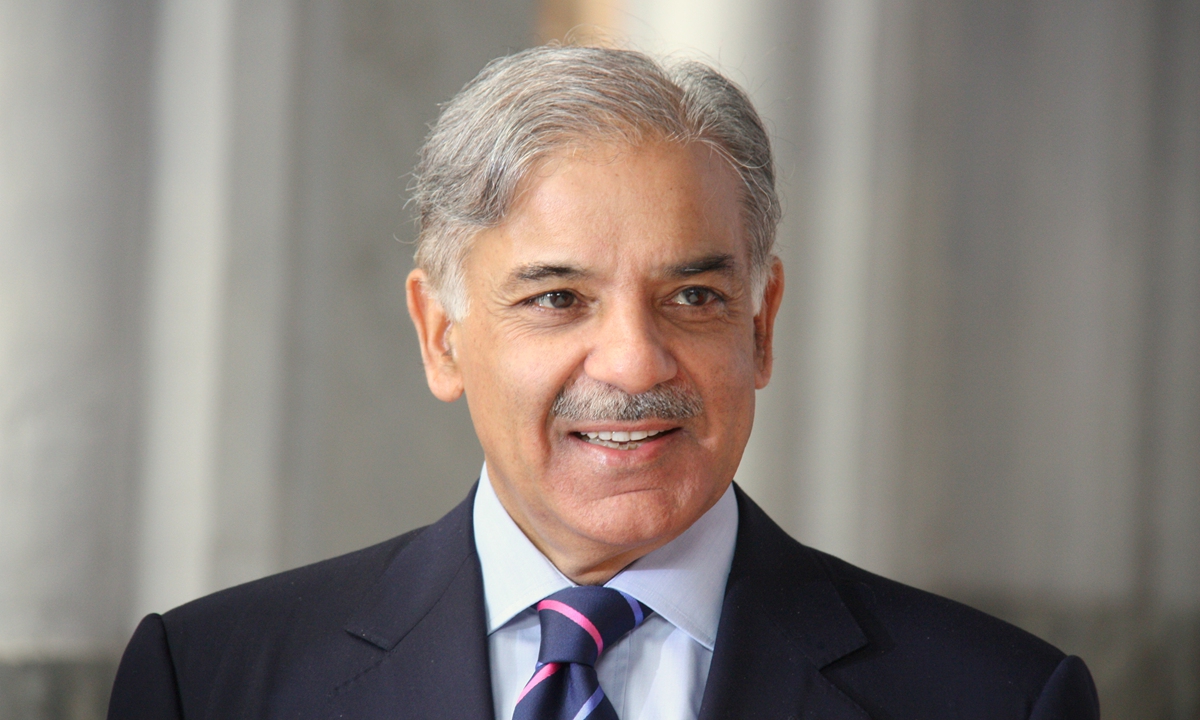 Pakistani Prime Minister Shehbaz Sharif is embarking on his first official visit to China since taking office in April on Tuesday. He is among the first foreign leaders to visit China after the 20th National Congress of the Communist Party of China and hopes to learn from "Chinese economic miracle." Amid growing challenges in the world, the visit will deepen the iron-clad friendship between the two countries, which will also push the flagship China-Pakistan Economic Corridor (CPEC) under the Belt and Road Initiative to a new high level.
Sharif described the Pakistan-China friendship as a sacred tale of abiding trust and love in an article published in the Global Times on Monday. Such unbreakable all-weather friendship won't be affected by domestic political volatility or external influence such as the US, some Chinese experts said. As the first phase of the CPEC construction mainly focused on the infrastructure projects, laying a good foundation for future projects such as manufacturing, IT and agriculture, the second phase of the CPEC is expected to bring more benefits for local residents in Pakistan, helping improve their well-being, some experts said.
Also, the talks between Pakistani and Chinese officials are likely to focus on enhanced counterterrorism efforts to improve the protection of Chinese nationals in the country given a few terrorist attacks targeting Chinese.
As the visit begins, some Western media outlets speculate that Pakistan has been navigating through the rivalry of great powers, hinting at the China-US competition. Despite the hype, the all-weather friendship between China and Pakistan has not been shaken in the overall foreign policies of the both sides, some experts said.
We warmly welcome the visit of Pakistani Prime Minister Shehbaz Sharif to China. During the visit, the two sides will sign a number of cooperation documents, Zhao Lijian, spokesperson of the Chinese Foreign Ministry, told a routine press conference on Tuesday.
During his visit, Sharif is scheduled to meet with Chinese President Xi Jinping. He will also hold talks with Premier Li Keqiang, and meet with Li Zhanshu, chairman of the Standing Committee of the National People's Congress, according to Foreign Ministry spokesman Wang Wenbin last week.
The leaders will have in-depth exchanges of views on bilateral relations and international and regional issues of common concern, and jointly plan and jointly chart the course for and steer the growth of China-Pakistan relations, according to the Chinese Foreign Ministry.
Sharif twitted on Tuesday that "My discussions with Chinese leadership will focus on revitalization of CPEC among many other things. The 2nd phase of CPEC promises to usher in a new era of socio-economic progress that will uplift quality of our people's lives. There is a lot to learn from Chinese economic miracle."
In Sharif's article that was published in the Global Times on Monday, he said the CPEC's next phase of high-quality development will encompass key areas such as industry, energy, agriculture, ICT, rail and road network and developing Gwadar Port as a hub of trade and transshipment, investment and regional connectivity.
Pakistan can also serve as the manufacturing base for China and an extension of its industrial and supply chain network, he said.
Future cooperation
Over the past years, the construction of the CPEC has greatly increased the level of infrastructure in Pakistan and created many jobs for local residents, which is overwhelmingly welcomed by the Pakistani society, Qian Feng, director of the research department at the National Strategy Institute at Tsinghua University, told the Global Times on Tuesday.
"The second phase of the CPEC will focus more on how to improve livelihoods including some smaller but beautiful projects that could help boost the wellbeing of local residents and their sense of happiness such as improvement of electricity and internet network supplies," he said.
Some business representatives from Chinese companies in Pakistan expect that the upcoming development of the CPEC will help tackle ongoing issues such as energy shortage and lack of connectivity, hoping that Pakistan could introduce some Chinese models of management in industrial parks to streamline procedures.
The implementation of the CPEC will move from phase one, which focuses on addressing chronic issues hindering Pakistan's economic development such as power shortage and undeveloped infrastructure connectivity, to phase two that prioritizes industrial capacity cooperation, industry transfer and technology, Xiao Hua, the chairman of state-owned China State Construction's Pakistani company and general manager of the company's Peshawar-Karachi Motorway (PKM) project, told the Global Times on Wednesday. PKM project is one of the largest transportation projects under the CPEC.
"The start of phase two is built upon fruitful results achieved by a number of CPEC projects, and it will stimulate the indigenous impulses of Pakistani economy and its 'self-generating' ability," Xiao explained, while predicting that the two countries will jointly build special economic zones and industrial parks to facilitate cooperation.
Another representative from a Chinese company in Pakistan who preferred not to be named told the Global Times on Tuesday that "It is hoped that Pakistan could introduce the Chinese industrial park management committee model and implement one-stop management in local industrial parks to streamline approval procedures.''
Co-chaired by senior officials of Pakistan and China, the meeting of the 11th CPEC-Joint Cooperation Committee (JCC) held on Thursday expressed satisfaction at the steady pace of CPEC projects.
During the meeting, both sides emphasized the importance of the CPEC for economic prosperity and agreed to finalize all procedural formalities prior to launching new projects including ML-I and the Karachi Circular Railway.
Beside those major projects, how to continue some previous projects will also be discussed, especially when some loopholes or shortcomings are found in those projects, Zhou Rong, a senior researcher at the Chongyang Institute for Financial Studies at Renmin University of China, told the Global Times on Tuesday.
"Currently, the CPEC is focused more on the connectivity in Pakistan, not much on the connectivity between China and Pakistan," he said, noting that future CPEC projects will enter a period of stable development.
False narratives
Despite of significant progress achieved by the China-Pakistan cooperation, some Western media and observers hold a "sour grape" mentality by hyping that some projects could be debt traps, saying that Beijing could be cautious about lending more money to Pakistan given the slowdown of Chinese economy and Pakistan's inability to pay off its existing debt.
Some media such as Nikkei also reported that Sharif will likely seek $10 billion in financial assistance from China, through balance of payment support and rolling over Chinese loans, which make up 30 percent of Pakistan's total external debt.
"As far as the media concern especially the Western media it's all false," Ejaz Akram, a Pakistani scholar, also professor of Religion & World Politics in Southwestern University of Political Science and Law in Chongqing, told the Global Times on Tuesday.
The Chinese debt is a very tiny proportion of Pakistan's total debt, which is mostly owed to Western countries, so this all nonsense of debt trap doesn't hold up, he said.