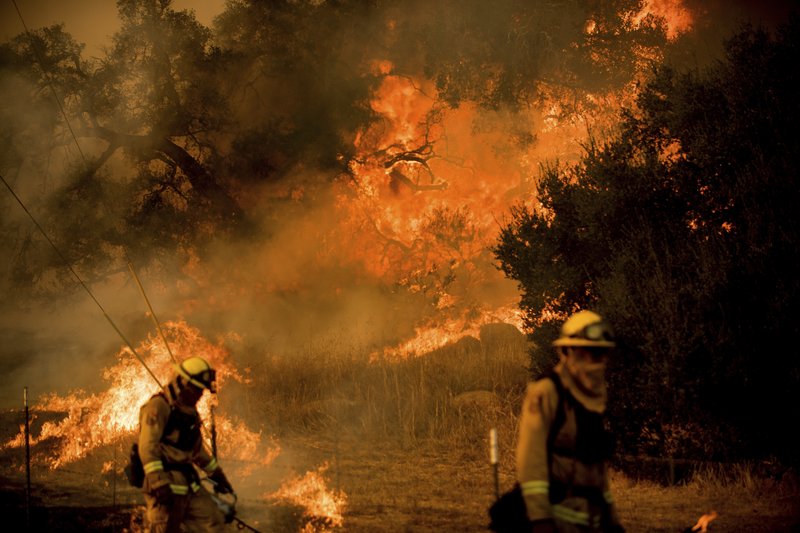 A flare-up on the western edge of Southern California's largest and most destructive wildfire sent residents fleeing Sunday, as wind-fanned flames churned through canyons and down hillsides toward coastal towns.
Crews with help from water-dropping aircraft saved several homes as unpredictable gusts sent the blaze churning deeper into foothill areas northwest of Los Angeles that haven't burned in decades. New evacuations were ordered in Carpinteria, a seaside city in Santa Barbara County that has been under fire threat for days.
"The winds are kind of squirrely right now," said county fire spokesman Mike Eliason. "Some places the smoke is going straight up in the air, and others it's blowing sideways. Depends on what canyon we're in."
The department posted a photo of one residence engulfed in flames before dawn. It's unclear whether other structures burned. Thousands of homes in the county were without power.
Firefighters made significant progress Saturday on other fronts of the enormous fire that started Dec. 4 in neighboring Ventura County. Containment was way up on other major blazes in Los Angeles, Riverside and San Diego counties.
Forecasters said Santa Ana winds that whipped fires across the region last week were expected to die down later Sunday — but not before creating possible gusts topping 50 mph (80 kph).
A lack of rain has officials on edge statewide because of parched conditions and no end in sight to the typical fire season.
"This is the new normal," Gov. Jerry Brown warned Saturday after surveying damage from the deadly Ventura fire. "We're about ready to have firefighting at Christmas. This is very odd and unusual."
High fire risk is expected to last into January and the governor and experts said climate change is making it a year-round threat.
Overall, the fires have destroyed nearly 800 homes and other buildings, killed dozens of horses and forced more than 200,000 people to flee flames that have burned over 270 square miles (700 square kilometers) since Dec. 4. One death, so far, a 70-year-old woman who crashed her car on an evacuation route, is attributed to the fire in Santa Paula, a small city where the fire began.
The Ventura County blaze continued to burn into rugged mountains in the Los Padres National Forest near the little town of Ojai and toward a preserve established for endangered California condors.
As fires burned in Ventura and Los Angeles counties, firefighters were already in place north of San Diego on Thursday when a major fire erupted and rapidly spread in the Fallbrook area, known for its avocado groves and horse stables in the rolling hills.
The fire swept through the San Luis Rey Training Facility, where it killed more than 40 elite thoroughbreds and destroyed more than 100 homes — most of them in a retirement community. Three people were burned trying to escape the fire that continued to smolder Sunday.
Most of last week's fires were in places that burned in the past, including one in the ritzy Los Angeles neighborhood of Bel-Air that burned six homes and another in the city's rugged foothills above the community of Sylmar and in Santa Paula.