Rail passengers across the UK are facing major disruption over the weekend with drivers at the majority of train companies striking on Saturday.
It's the latest in a series of industrial actions by many different sectors over pay, pensions and conditions which look set to escalate in the coming weeks.
Eleven rail companies have been affected as the train drivers' union ASLEF launched its latest strike, with more threatened before Christmas. It's causing major problems for people traveling to Christmas markets and big sporting events.
These include the autumn rugby internationals with England playing South Africa in London and in Cardiff, where Wales were up against Australia.
The other major rail union, the RMT, has also announced eight days of strikes in December and January. The Union's Secretary General Mick Lynch has defended the action, despite criticism that it could affect the Christmas holiday season.
"Working people across our class need a pay rise and we are determined to win that for our members in the RMT," Lynch told reporters.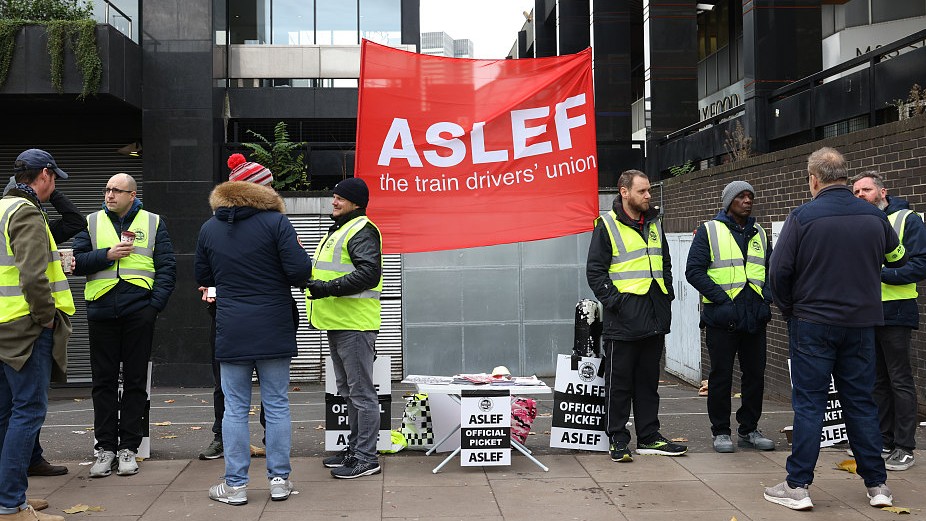 "We will support all other workers in their campaigns and actions. In the meantime, our message to the public is we are sorry to inconvenience you, but we urge you to direct your anger and frustration at the government and the railway employers during this latest phase of action."
The UK, like many other countries, is facing a cost of living crisis. Inflation currently stands at just over 11 percent, with a huge increase in energy costs along with rising food prices, partly caused by the conflict in Ukraine.
Interest rates and mortgages have also shot up.
All of which has sparked a wave of industrial action, including nurses who for the first time in history of the National Health Service have voted to strike.
For years, real wages have fallen and now they want to make up for lost time.
UK Prime Minister Rishi Sunak says their demands are unaffordable.
"I know things are difficult right now for everyone because of what's happening with inflation," Sunak said. "That's why our plans that we outlined last week will get a grip of inflation and bring it down.
"That's really important. In the meantime, what the unions are asking for, I think, is a 19 percent pay rise and I think most people watching will recognize that that's obviously unaffordable."
But with many pay offers falling short of inflation, the UK looks set for a winter of discontent.
Postal workers will be walking out for several days before Christmas, with other sectors planning strikes running through to the new year.