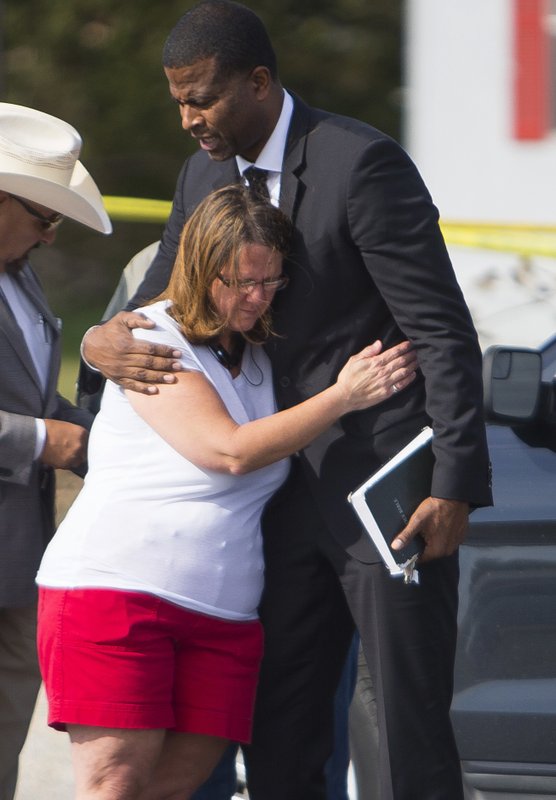 The American flag mounted on the fence of Michael Ward's home in Sutherland Springs was hanging upside down Monday. Neighbors say it had been that way since the Oct. 1 Las Vegas shooting, an apparent memorial to the 58 victims of that attack.
Now the Ward family has lost several relatives, including children, in the Texas church shooting.
Leslie Ward was setting up for a yard sale at the house when she heard gunfire.
Her husband, Michael Ward, tells The Dallas Morning News that he ran inside the church and carried out his 5-year-old nephew, Ryland, who had four gunshot wounds.
Ryland was transferred by helicopter to a San Antonio hospital. The boy's mother and two of his sisters were among 26 people killed.
On Monday, items were arranged for the yard sale, but no one was there. The flag remained upside down.
The owner of a restaurant and store across the street from the Texas church shooting says she sheltered one bloodied survivor.
Terrie Smith says she saw the shooter's body "shaking" from the recoil of his weapon as he opened fire outside the church
Fighting back tears, Smith said she and several customers fell to the ground and crawled back to the store.
She says they locked themselves in and heard firing while the gunman was inside the church.
Smith says that a victim ran out "all bloody in his arms and face." She says: "We let him in. He said 'somebody went in and shot everybody. My family is in there, my family is in there.'" The unidentified man then tfell to the ground.
The shooting left 26 people dead and 20 injured.
U.S. Sen. Ted Cruz says that the "bravery and courage" of a citizen who shot back at the gunman in the Texas church attack should be celebrated.
The Republican senator from Texas spoke after talking to law enforcement officials and visiting the church in Sutherland Springs where Devin Kelley killed 26 people and wounded about 20 more.
When a reporter asked Cruz about gun control, he noted the recent terrorist attack with a truck in New York and said "Evil is evil."
He then lauded the "ordinary citizen" who engaged the gunman. Cruz says that law enforcement officers showed him where the citizen hid behind a car and took incoming shots from the gunman.
Cruz said he asked law enforcement what would have happened if the citizen had not used his own gun to confront Kelley. Cruz said they responded that the death toll would have been higher.