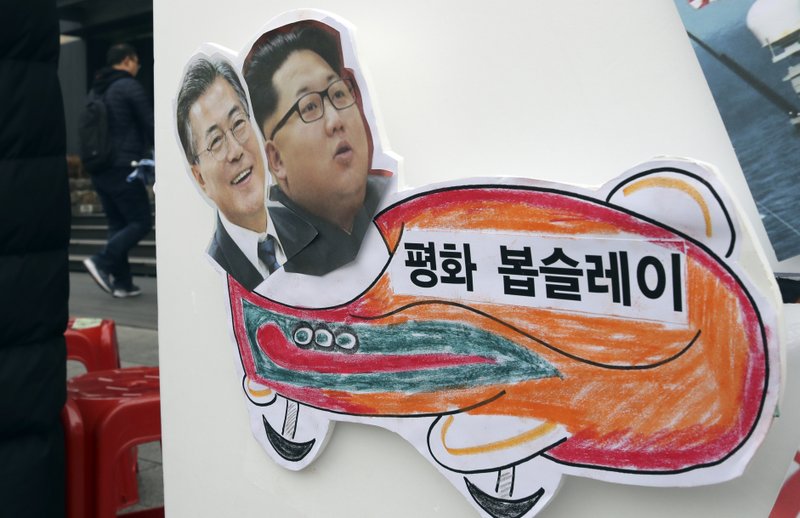 North Korea won't be dominating any medal counts when the Winter Olympics come to Pyeongchang in South Korea next month. But it's hoping to grab as much of the spotlight as it can with what might be an Olympic first in ice hockey and a flamboyantly crowd-pleasing all-female cheering section to liven up the stands.
Negotiators from the two Koreas, fighting against the clock ahead of the games' Feb. 9 start date, announced some of the key details of North Korea's plans after a day of talks Wednesday in the Demilitarized Zone that divides them.
Officials from North and South will take the plan to the International Olympic Committee in Switzerland this weekend for approval.
Here's a quick look at who might be coming. And a note on who conspicuously isn't.
___
THE ATHLETES
Who, how many, and maybe even if there will be any at all — those are still open questions at this point.
South Korea's media are reporting maybe 10 or so athletes will come.
The North and South agreed to create a unified women's hockey team, which would mark a first in the Olympics. The plan has gotten some criticism from the South because of concerns that South Korean athletes who made the national team might be bumped off to make room for the North's players.
South Korea's president said fielding a joint ice hockey team would be a historic event that would move the hearts of people around the world. He also expressed support for athletes from the Koreas marching together under a blue-and-white "unification" flag. The plans still must be approved by the IOC.
Two North Korean figure skaters qualified for the games, but the North failed to register them in time and they lost their slot in the pairs competition. Whether a special effort is being made to get them back into the games, or to bring in athletes for any other events, isn't clear.
No medals are involved, but the North will unleash a taekwondo squad on Pyeongchang. They'll demonstrate the North's version of the traditional Korean martial art, which is an official Summer Olympic event.
There has been some speculation about the attendance of high-ranking officials from the North. Kim Jong Un sent three of his top lieutenants to the South for the 2014 Asian Games in Incheon — one of whom hasn't been seen lately, sparking rumors last month of a purge.
If a similarly senior bunch were to go, that would be big news.
___
THE CHEERING SQUADS
The real crowd pleasers at North Korean sporting events are often in the stands.
North Korea is known for the highly trained, ultra-serious and usually all-female cheering groups wearing bright outfits that it sends to motivate its athletes — and grab media attention — at important competitions abroad. North Korea intends to send 230 of them to Pyeongchang, according to Seoul's Unification Ministry.
It's widely believed that North Korean leader Kim Jong Un's wife, Ri Sol Ju, is an "Army of Beauty" alumna, having traveled to Incheon in 2005 as part of a cheering squad at the Asian Athletics Championships.
The women are chosen not only for their cheering skills but also for their youth and good looks.
The mere prospect of seeing the women in action has already touched off quite a stir on South Korean and Japanese television shows.
If nothing else, they will be ratings gold.
___
... AND THE DIVAS THAT GOT AWAY
In talks earlier this week, North Korea sent the leader of its most popular girl band to negotiate, raising hopes the band would be coming to the games.
That had the potential to be huge. Super Bowl halftime huge.
Hand-picked by Kim himself, the Moranbong Band serves as the "soft" public face of the regime. Its members alternate between miniskirts and military uniforms on stage and are often called up to do concerts marking major political events, frequently with missiles or photos of the leader covering the big screens looming behind them.
The presence of bandleader Hyon Song Wol in itself was sensational. South Korean media reports in 2013 claimed she had been executed by firing squad for her role in a salacious scandal. She put that speculation to rest by appearing on TV about a year later and is now an alternate member of the ruling party's central committee.
In the end, North Korea announced its 140-member Samjiyon band — an orchestra with dancers and vocalists — will make the trip.
Maybe that's for the best.
The Moranbong Band was supposed to make its international debut in Beijing in 2015, but that fell through mysteriously at the last minute. Considering the more delicate North-South situation, concerns had been raised over what the band would perform in Pyeongchang — its repertoire includes such hits as "We Can't Live Without His Care," ″The Song of the Hwasong Artillerymen," and "My Country is the Best."