The latest: COVID-19 outbreak worldwide (Updated April 18)
People's Daily app
1587207171000
File photo
The total number of deaths from the COVID-19 pandemic worldwide has increased to 154,686 with the global confirmed cases reaching 2,258,926 as of 6 pm BJT on Saturday, according to a tally by Johns Hopkins University.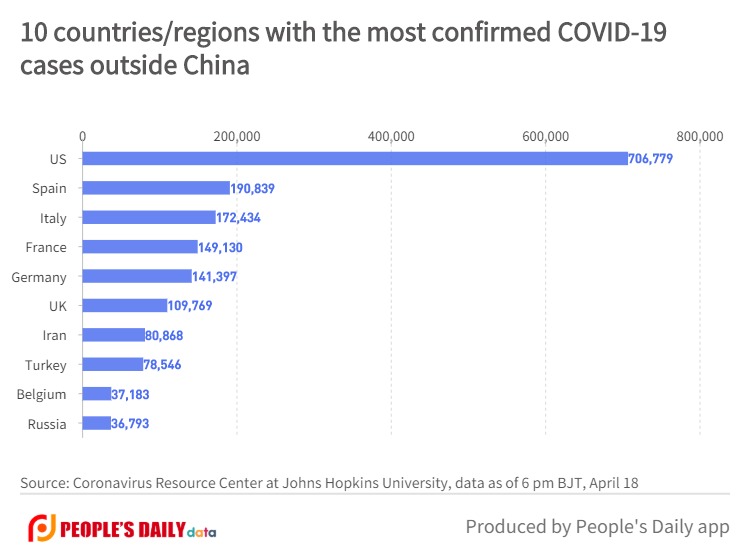 Current status (data as of 6:00 pm BJT, April 18):
Chinese health authority said Saturday that it received reports of 27 new confirmed COVID-19 cases on the mainland Friday, of which 17 were imported.
The number of COVID-19 cases in the United States has increased to 706,779 as of 5:10 pm Beijing time on Saturday, according to the Center for Systems Science and Engineering (CSSE) at Johns Hopkins University.
The coronavirus pandemic has claimed 22,745 lives in locked-down Italy, bringing the total number of cases, including fatalities and recoveries, so far to 172,434, according to the latest data released by the country's Civil Protection Department on Friday.
The French navy is investigating how the coronavirus infected more than 1,000 sailors aboard the aircraft carrier Charles de Gaulle, amid growing pressure on government leaders to explain how it could have happened.
Russia has registered a daily record of 4,785 COVID-19 cases over the last 24 hours, with the total number jumping to 36,793 as of Saturday, official data showed.
Japan's health ministry and local governments said Saturday that the number of COVID-19 infections nationwide had risen to 10,098 cases as of Saturday afternoon, as the country enters the first weekend since a state of emergency was expanded nationwide in a bid to stem the spread of the virus.
Germany's person-to-person infection rate has dropped to 0.7, meaning each person carrying the coronavirus is now infecting less than one other person on average, according to the country's disease control agency.